Music/Songs Searching sites
Welcome to FindSounds.com, a free site where you can search the Web for sound effects. Click here to see the types of sounds you can find. On August 1, 2012, FindSounds.com celebrated its 12-year anniversary as the leading Web search engine for sound effects. Using a smartphone or other handheld device?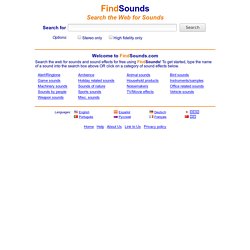 Singing Search You can find songs with midomi and your own voice. Forgot the name of a song? Heard a bit of one on the radio?