Sleep
How to Get the Nap You Need. Power Napping for Increased Productivity, Stress Management and Health - Take a Power Nap - Power Nap and The Benefits of Sleep. Why A Power Nap?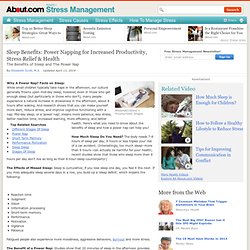 Facts on Sleep: While small children typically take naps in the afternoon, our culture generally frowns upon mid-day sleep; however, even in those who get enough sleep (but particularly in those who don't), many people experience a natural increase in drowsiness in the afternoon, about 8 hours after waking. And research shows that you can make yourself more alert, reduce stress, and improve cognitive functioning with a nap. Naps, Learning and REM : The Frontal Cortex. It's a shame that we stop encouraging naps once the preschool years are over.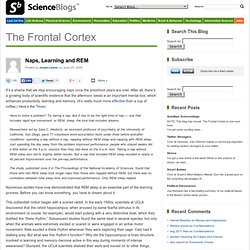 After all, there's a growing body of scientific evidence that the afternoon siesta is an important mental tool, which enhances productivity, learning and memory. (It's really much more effective than a cup of coffee.) Here's the Times: Have to solve a problem? Try taking a nap. Sleep, Dreams and REM Sleep Behavior Disorder. Biology 202 1999 First Web Reports On Serendip Mahalia Cohen The discovery of rapid eye movement (REM) sleep suggested that sleep was not, as it was thought to be, a dormant state but rather a mentally dynamic one.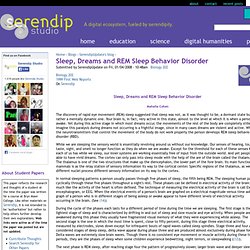 Your brain is, in fact, very active in this state, almost to the level at which it is when a person is awake. Yet during this active stage in which most dreams occur, the movements of the rest of the body are completely stilled. Disorders That Disrupt Sleep (Parasomnias) Causes, Symptoms, Treatment - Sleep Disorder Causes on eMedicineHealth. Disorders That Disrupt Sleep (Parasomnias) (cont.)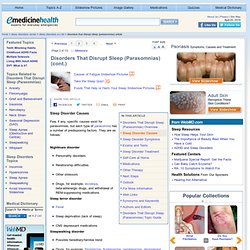 Sleep Disorder Causes Few, if any, specific causes exist for parasomnias, but each type of parasomnia has a number of predisposing factors.
---