Steve Jobs
Steve Jobs on Mock Turtlenecks and Jeans. Steve Jobs was famous for his wardrobe of black mock turtlenecks and Levi's 501 jeans, but the story of what inspired him to adopt the basic but unique uniform has never really been revealed in detail.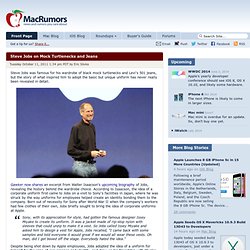 Gawker now shares an excerpt from Walter Isaacson's upcoming biography of Jobs, revealing the history behind the wardrobe choice. According to Isaacson, the idea of a corporate uniform first came to Jobs on a visit to Sony's facilities in Japan, where he was struck by the way uniforms for employees helped create an identity bonding them to the company. Remembering Steve Jobs Around The World - Photo Essays. Text of Steve Jobs' Commencement address (2005) Video of the Commencement address.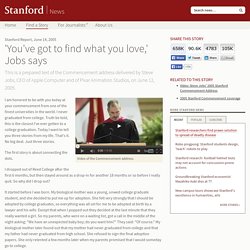 I am honored to be with you today at your commencement from one of the finest universities in the world. I never graduated from college.
---