SocialBro
SocialBro Official Blog. CMOs of the world, we salute you!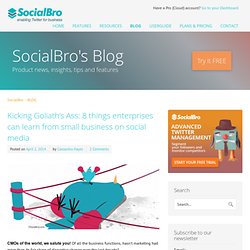 Of all the business functions, hasn't marketing had more than its fair share of disruptive change over the last decade? Marketing as a discipline has changed beyond all recognition – probably 90%, or more, of online activities today didn't exist in 2005. It is undoubtedly true that none of today's business success stories have gained or maintained their positions without embracing that change, though many may at times have felt like they were on a treadmill where, no matter how fast you run to stay ahead, someone else keeps turning up the speed. Yet tempting though it may be to rest awhile on those hard won laurels, there is a new thorny marketing problem in the side of many larger businesses that isn't going away any time soon, and that's social media, which is still an area of marketing that many enterprise scale organisations struggle with. Social Media Management, Twitter Tools, Social CRM | Sprout Social.
Get serious stats about your Twitter community with Social Bro. You might think you know a lot about the people you follow, and who follow you, on Twitter.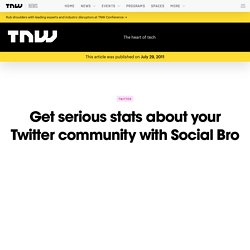 However, Social Bro is an app that might change your mind. It lets you explore statistics that provide some interesting insights into your Twitter community. Once this Adobe Air-based app is installed, you have to register for an account. e24Apps , the company behind Social Bro promises to authorise new accounts within 24 hours, so you may have a short wait to get to use the service, which still in beta. Once you're in and you've hooked up your Twitter ID, it's time to explore your community. The Home tab gives you a wide range of statistics, including a graph plotting your followers, friends and tweets; details of people who recently unfollowed you; new followers; inactive followers; your noisiest friends (those who tweet the most) and more. Social bro « Peg Fitzpatrick Peg Fitzpatrick. SocialBro - Explore your Twitter community.
---