DeveloperSkills
Get flash to fully experience Pearltrees
A small (yet Turing-equivalent) language
Web app developers spend most of our time not thinking about how data is actually transmitted through the bowels of the network stack.
I spent most of yesterday afternoon working on a paper I'm co-writing. It was one of those days when the writing came easy. I was moving from topic to topic, but then I realized that I was reaching too far backward – I was explaining things which I shouldn't have had to explain to the audience I was trying to reach.
10 Technical Papers Every Programmer Should Read (At Least Twice) this is the second entry in a series on programmer enrichment
Last updated: September 12, 2006 News (3/15/06): I started a new blog .
Documenting Architecture Decisions Tags: agility and architecture Architecture for agile projects has to be described and defined differently.
In real life, you would never use a ladder that only let you go up. Likewise, when creating abstractions, stepping down is as important as stepping up .
One of the more popular topics here on the GDNet forums goes something like this: "Hi, I just [bought a computer | wrote a simple game | discovered a game engine] and I want to know where to go from here.
In an earlier post I mentioned that one goal of the new introductory curriculum at Carnegie Mellon is to teach parallelism as the general case of computing, rather than an esoteric, specialized subject for advanced students. Many people are incredulous when I tell them this, because it immediately conjures in their mind the myriad complexities of concurrency: locks, monitors, deadlock, dining philosophers, …. And if you look at the recent research literature, you will see countless papers of the form (a) parallelism is important, so (b) let's talk about concurrency.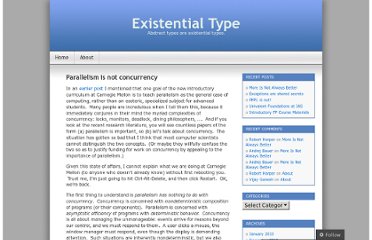 Published on Tuesday, August 09, 2011 in better