Web Dev/Comp
Vortech Web Hosting. Unlimited domains with unlimited income potential The Frontline Reseller Plan gives you the flexibility to Host UNLIMITED Domains under one large account and still be able to monitor each client's disk and bandwidth usage using the H-Sphere Software!
We remain completely in the background and manage the server hardware and software for you. Website creation. Upload & Share PowerPoint presentations and documents. What We Do. PrivacyHarbor.com. Simple Mail Transfer Protocol or SMTP Common Email came into use around 1981 and has remained virtually unchanged ever since.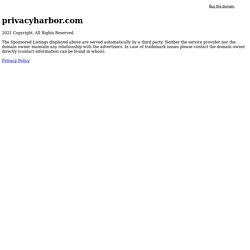 Today, common email works by forwarding a copy of your sent message to multiple servers, each of which retains a copy. As a result, common email is continually exposed to spam, identity theft, risks for children, exposure to phishing and other scams, competing business interests, and even security leaks from employees and contacts. PrivacyHarbor.com keeps your email private and secure. Sandboxie - Sandbox software for application isolation and secur. Artisteer - joomla template generator and wordpress theme genera. Technical Support for Open Source Software. Web Pages That Suck - learn good web design by looking at bad we.
Tutorials. Beginner Lessons In a few short hours, the beginner lessons will lead you step by step through the powerful features of your new website.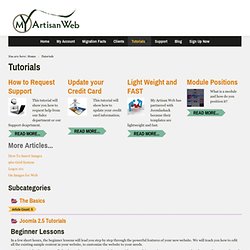 We will teach you how to edit all the existing sample content in your website, to customize the website to your needs. Each lesson is broken into small chunks, so that we won't overwhelm you with too much instruction at once. Dreamweaver Tutorial: How to Create a Website with Dreamweaver C. Tutorial on How to Design Your Website Using Adobe Dreamweaver CS3 by Christopher Heng, thesitewizard.com Adobe Dreamweaver Creative Suite 3 (CS3), formerly known as Macromedia Dreamweaver, is a fully-featured commercial web editor that allows you to create, build and manage complex websites.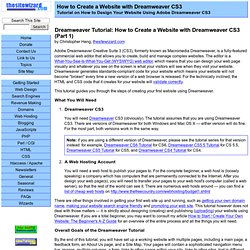 Computer Tutorials. HTML: An Interactive Tutorial - HTML Code Guide - Index. April 14, 2014: Last Chapter Update: Setting up your .com (Web Hosting Tutorial) HTML stands for the HyperText Markup Language.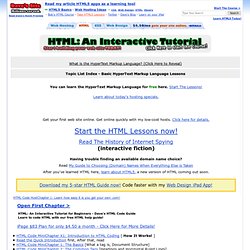 Web sites are created with the codes of the HTML language. HTML is extremely easy to learn, and it's completely free to code web sites with it. Online Web Tutorials. Xtranormal | Text-to-Movie. Web Analytics.
Custom Logo Design by My Custom Logo - Starting at $99. MyCustomLogo: the Custom Logo Design Solution for Small Business owners around the world.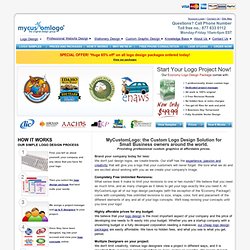 Providing professional custom graphics at affordable prices. Brand your company today for less: We don't just design logos, we create brands. Our staff has the experience, passion and creativity that will give you a logo that your customers will never forget. We love what we do and are excited about working with you as we create your company's image. Completely Free Unlimited Revisions: What sense does it make to limit your revisions to one or two rounds? Logo design provider best quality. Boot Camp - Mashing for Beginners. Overview The term "mash-up" or "bootleg" (or, more commonly, just "boot") describes the result of mixing together two or more records to create a whole new track.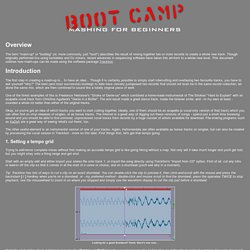 Though originally performed live using turntables and DJ mixers, recent advances in sequencing software have taken this art-form to a whole new level. Joomla template generator and wordpress theme generator. Joomla! How to Use FTP Clients - FileZilla Tutorial. This tutorial will show you how to use FileZilla to upload your website.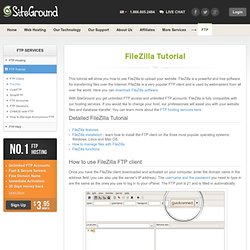 FileZilla is a powerful and free software for transferring files over the Internet. FileZilla is a very popular FTP client and is used by webmasters from all over the world. Here you can download FileZilla software. WordPress Themes, HTML Templates. Tyler James. Tumblr. What deux yeux have teux deux teuxday? Free Website With Flash Website Builder at Wix.com. Best Tech Deals - Deals on Laptops, Computers & Electronics | Te. Download Sandboxie. Sandboxie version 4.08 ...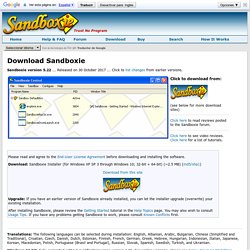 Released on 19 January 2014 ... Click to list changes from earlier versions. Translations: The following languages can be selected during installation: English, Albanian, Arabic, Bulgarian, Chinese (Simplified and Traditional), Croatian, Czech, Danish, Dutch, Estonian, Finnish, French, German, Greek, Hebrew, Hungarian, Indonesian, Italian, Japanese, Korean, Macedonian, Polish, Portuguese (Brasil and Portugal), Russian, Slovak, Spanish, Swedish, Turkish, and Ukrainian.
Windows 64-bit: Fully supported without qualifications since version 4.02. For earlier versions, please see Notes About 64 Bit Edition. Stock Photography: Download Free Stock Photos & Royalty Free Images. Stock Photos | Shutterstock: Royalty-Free Subscription Stock Photography & Vector Art.
---