PoliSci/PubPol
Body scanner. Center for Defense Information - Security Policy Research Organization. The Institute for the Study of Religion Violence and Memory. Terrorism & Political Violence Book reviews ISRVM Director Jeffrey Kaplan serves as Book Review Editor for the journal Terrorism and Political Violence.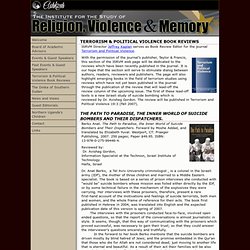 With the permission of the journal's publisher, Taylor & Francis, this section of the ISRVM web page will be dedicated to the reviews which have been recently published in the journal. It is our hope that the section will serve to stimulate dialog between authors, readers, reviewers and publishers. The page will also highlight emerging books in the field of terrorism studies using reviews which have not yet been published in the journal through the publication of the review that will lead-off the review column of the upcoming issue.
ComingAnarchy.com. Libya/Tripoli/Gaddafi. Refugees United. Arab Media & Society. Global Policy Forum. TransFair USA | Home. Middle East Institute. Middle East Quarterly - WINTER 2010 VOLUME 17: NUMBER 1. Council on Foreign Relations. PublicSquare.net - Common Ground, Uncommon Debate. Beyond Intractability - More Constructive Approaches to Destruct. Did Bush administration policies prevent 9/11 from happening aga. This is the sixth part in a series of eight exploring why the United States suffered no follow-up terror attacks after 9/11.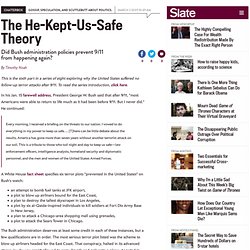 To read the series introduction, click here. In his Jan. 15 farewell address, President George W. Bush said that after 9/11, "most Americans were able to return to life much as it had been before 9/11. But I never did. " He continued: Home.
---