PoliSci/PubPol
The Other Meltdown: Little to Show for Huge Defense Budgets (Opinion) The financial and economic collapse, our deeply flawed healthcare system, the gridlock in Washington, two long wars not going well, and long-term, fundamental problems with energy and Social Security do not complete the list of raging crises the new president must face. Add the ever expanding cost of America's shrinking, aging, less ready military forces, now approaching the meltdown stage. The nature of the problems our defenses face and the basic nature of some possible real solutions are outlined in a commentary Winslow Wheeler wrote for the Nov. 3, 2008 issue of Defense News .
Center for Defense Information - Security Policy Research Organization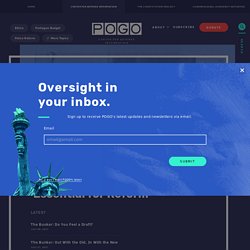 The Institute for the Study of Religion Violence and Memory
Terrorism & Political Violence Book reviews ISRVM Director Jeffrey Kaplan serves as Book Review Editor for the journal Terrorism and Political Violence. With the permission of the journal's publisher, Taylor & Francis, this section of the ISRVM web page will be dedicated to the reviews which have been recently published in the journal. It is our hope that the section will serve to stimulate dialog between authors, readers, reviewers and publishers. The page will also highlight emerging books in the field of terrorism studies using reviews which have not yet been published in the journal through the publication of the review that will lead-off the review column of the upcoming issue.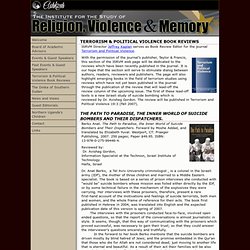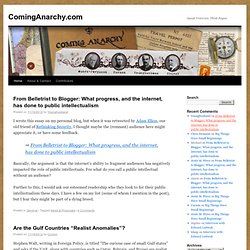 Stephen Walt, writing in Foreign Policy, is titled "The curious case of small Gulf states" and asks if the UAE, along with countries such as Qatar, Bahrain, and Brunei are realist anomalies: The puzzle is this: How is it possible for very small, very rich, yet militarily weak countries to retain their independence? Why haven't rapacious great powers or greedy neighbors gobbled these countries up long ago, and seized all that valuable oil and gas for themselves?
Refugees United
Arab Media & Society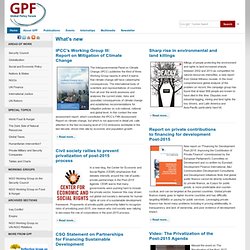 As governments try to address the challenge of financing sustainable development that makes justice to all three dimensions, they will have to do so relying on an international financial and trading system that to a great extent predates such commitments and did not evolve in light of the need to serve them. Additionally, in a world where the exponential growth of finance has led to a finance-driven economy, how can the agenda subordinate finance to a real economy with human rights at the center? In a side-event co-organized by CIDSE, Global Policy Forum, Righting Finance and Third World Network, we will discuss whether and to what extent the current international financial, monetary and trading systems are equipped to make this leap, and what needs to happen in the agreement on the post-2015 development agenda to support the enabling of such transition.
Global Policy Forum
TransFair USA | Home
Middle East Institute
Middle East Quarterly - WINTER 2010 VOLUME 17: NUMBER 1
Reuters Resources for Global Business Explore issues at the nexus of business and foreign policy featured on our corporate webpage and in our CEO Speaker series archive, and learn more about membership in the Corporate Program. Courtesy Kaveh Sardari Informing Policy on Capitol Hill Learn about how CFR connects with members of the U.S. Senate and House of Representatives on international and economic issues. Reuters Informing Policy in Foreign Capitols Find out more about CFR's efforts to foster exchange between foreign representatives and U.S. business, political, and academic leaders. Reuters Interactive Tools for the Classroom Integrate our multimedia guides, customized teaching modules, academic conference calls, and other pedagogical materials into your syllabus.
Watch the show. First up this week is the big decision from the Supreme Court. In McCutcheon vs. FEC, the court struck down limits on the amounts individuals may donate each cycle to candidates, parties, and political action committees, although it left in place limits for individuals to specific candidates. Critics of the decision claim that it's the death knell for democracy in America, but defenders say it upholds free speech.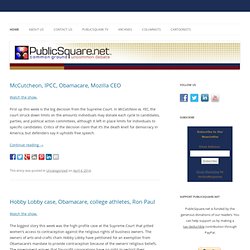 PublicSquare.net - Common Ground, Uncommon Debate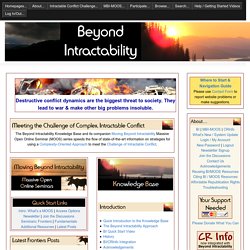 Beyond Intractability Copyright © 2003-2012 The Beyond Intractability Project, The Conflict Information Consortium, University of Colorado; All rights reserved. Content may not be reproduced without prior written permission. Inquire about affordable reprint/republication rights.
This is the sixth part in a series of eight exploring why the United States suffered no follow-up terror attacks after 9/11. To read the series introduction, click here. In his Jan. 15 farewell address, President George W. Bush said that after 9/11, "most Americans were able to return to life much as it had been before 9/11. But I never did." He continued: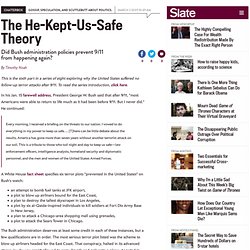 Did Bush administration policies prevent 9/11 from happening aga