3dsMax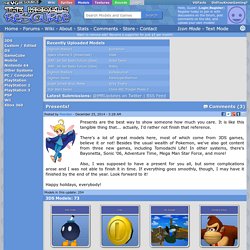 Hello everyone! I just finished adding in a couple of new features which I wanted to quickly highlight. On every game's main page, there is now a button allowing you to quickly jump to the "Add Model" form for that game. The game's title on the add page also links back to the original game so moving around the site should be a lot easier now.
Older news: Highlights from Vlado's V-Ray 3.0 sneak peek presentation at EUE 2013. [1.7.2013] V-Ray 2.40.04 for 3ds Max released. [13.6.2013] V-Ray 1.6 for SketchUp Open Beta [15.5.2013]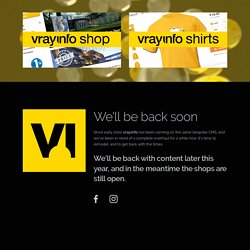 VRay.info | V-Ray shop, Tutorials, News, Reviews, Artist interviews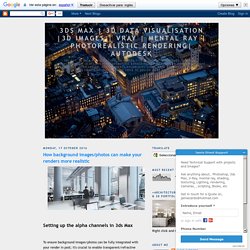 The above 3D Images were created and rendered whilst at Glass Canvas Productions Lighting a scene realistically is one the most challenging aspects of producing photorealistic renders. The following article/tutorial will focus mainly in easy techniques to help users achieve acceptable results, even when working on relatively bare/simple scenes.
Renderspaz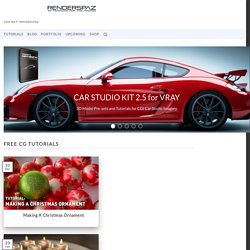 Car Studio Kit (Cinema 4D Edition) Provides preset light rig 3D models and backdrops to create studio setups for your 3D car models. Car Studio Kit was created and referenced off of real world automotive studio photography to give you highly realistic results in a short amount of time. Car Studio Kit C4D comes with CG […] Renderspaz Premium: Importance Of Creating Realistic Car Materials In Vray Having a good understanding of vray materials will boost your 3D models realism when it comes to rendering.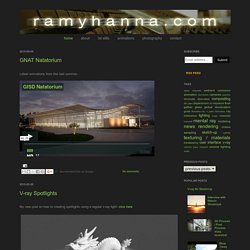 It has been a while since I've posted, but things have been busy. However with the season, I thought it appropriate to make a posting on how to manually paint snow into your 3d scenes. I can't take credit for this trick as I learned this from Fred Ruff at Bent Image Lab, and my posting of this here is more for me and just documenting the process down so I remember it. This basically begins by creating a BlobMesh. This is the object that will build up the snow, and what's interesting about this one is that it creates an organic object that sticks within a certain proximity.
Hello friends I will show how create a stock vector illustration 3d gold wedding ring images tutorial. I have used following techniques shown below in this 3ds max tutorial. [1]-Choose the Torus knot and create torus knot with the following size [2]-Place like me [3]-Apply the FFD 3×3x3 and select the control point Drag the control point like me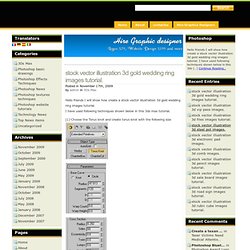 website template designs|psd website template|cool website templates|stock Photo|political website template|news website template|stock photo|stock vector illustration|sell stock photo| vector stock images| stock images
MAX Plugins.de - the plugin database for 3ds Max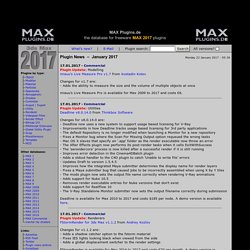 Laubwerk Plants are your easy way to use high quality, botanically approved plants with multiple variations, ages and seasons in your 3D application. Visual plant library browsing, a wide range of Level of Detail Options and much more comes through the bundled Laubwerk Player, a piece of software that brings the plant dataset to life. Plants Kit 4 includes the following Mediterranean and subtropical trees: Silver Wattle, Persion Silk Tree, Japanese Camellia, Orange, Mediterranean Cypress, New Zealand Pohutukawa, Canary Island Date Palm, Stone Pine and Pomegranate.
{E}vermotion - 3D models, textures, tutorials, architecture, 3D graphic, vray, 3ds max
RayFire Tool 1.55 3DsMax 9 - 2011 32Bit & 64Bit RayFire Tool gives you the ability to fragment, destroy, demolish, wreck, break down, wreak havoc, blow up, burst, detonate, explode and do other similar things you have always dreamed of to do in Max… Feature list
3dsmax-expert