2d art
STEFANOTSAI 3D/2D Conceptual Art. Subversive Girl. Drawthrough BLOG - DRAWTHROUGH: the personal and professional work of Scott Robertso. Welcome DVDs Bio.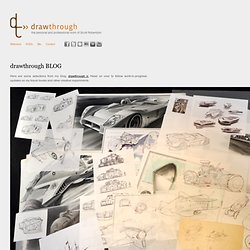 Art of Francis Tsai » environment design. Space opera: Galactic Imperium Orbital Station N-128 A finalized design, finally.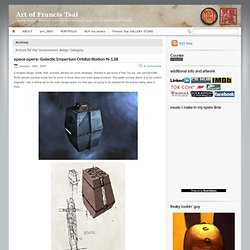 Well, probably still time for some tweakage. Wanted to get some of that 70s era, Joe Johnston/Nilo Rodis-Jamero practical model feel for some of these ships and outer space locations. The earlier concept sketch is at the bottom.
Vision Afar - Illustration. Feng Zhu Design. Jonny Duddle. Untitled Document. Donato Giancola - Gallery Realism. Chris thunig - matte painting & concept art. Jason Chan Art. George Hull - Krop Creative Database. BOOK Eric Tranchefeux; Nourritures, objets&Evironements, personnages, animaux, mascottes, cartoon, dessin concept, illustrations, peintures, photos, retouches photos. Foods, objets&Evironements, characters, animals, mascots, cartoon, drawing concept, illu.
:: D U S S O :: Children's Book and Fantasy Illustration Chris Beatrice. George Hull - Krop Creative Database. Congrats NB and the folks at Image Engine VFX- & Thanks for asking me to contribute!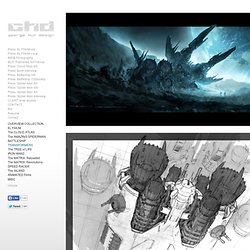 Take 1 sketches for the deportation hanger on Elysium based on NB notes. I roughed out a quick set and explored compositions. All deportation sketches were done in just one pass then given to VFX to evolve. Wish I'd had time to design +paint properly! Erik Tiemens Fine Art Landscapes - portfolio. Dermot Power | Concept Designer. Chadtownsend.com | chadtownsend.com. The Art of Jake Parker. JAKKAS' ART. Welcome to Dylan Cole Studio. Dermot Power | Concept Designer.
Home. DRAWTHROUGH: the personal and professional work of Scott Robertso. HPX-1 Design Unit - Temporary Gallery. Untitled. Portfolio « vyle-art.com>> the art of David Levy. WORK - Carlos Cabrera - Ilustrator and Concept Artist. The Art of John Liberto. Home > >> GALLERY. Untitled. Art of Daryl Mandryk. Benjamin Carre Gallery - Various illustrations. Welcome to JoachimArt.com - Blog. Harald Belker. EMRAH ELMASLI. The Art of Daarken. Ashley Wood | Artist. Stuntkid. Freelance Artist Portfolio, Nate Van Dyke. Below is work I've done for gallery shows or just because I felt like drawing it.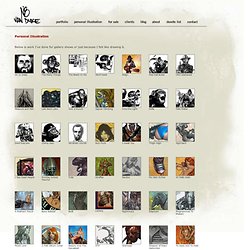 Vic Is Dead The Many Things. Morgan Yon / CONCEPT ART . VISUAL DEVELOPMENT. Untitled Document. Caroline Delen. The Art of Mike Corriero. The art of michael tassie. Arnaud Valette - concept artist/ visual development/ painting. Cesar Eiji. MaxIsland' Blog. The art of Matt Dixon - mattdixon.co.uk. 2D 3D Low poly / High poly. Jeudi 22 mai 4 22 /05 /Mai 01:04 Dimanche 27 avril 7 27 /04 /Avr 04:43 more quickies....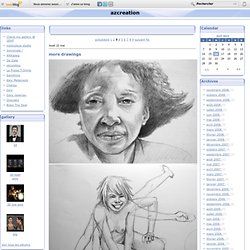 Mardi 22 avril 2 22 /04 /Avr 06:20. Peter Popken - concept art for films. Maciej Kuciara // Concept art for film and video games. Untitled. Gallery. Maciej Kuciara // Concept art for film and video games. OSOKARO. Hola, amiguitos, bienvenidos a mi blog.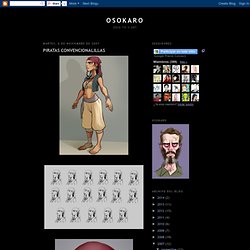 Me ha costado un poco, pero por fin lo he hecho. Como a casi nadie le ha gustado mi obra conceptual, "Oscuridad Adyacente", he decidido poner cosas más convencionales, como estas piratillas, diseños realizados para que unos colegas los modelaran, pero que todavía no han terminado. ¡Os odio, David y Jose Antonio! Y perdona, Rancio, por tener que aguantar los comentarios de la gente rajando de mi blog.Nos vemos. Peter Popken - online portfolio. Portfolio This page displays a small collection of images I producedduring the pre-production for several films and computergames.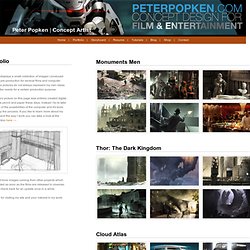 The pictures do not always represent my own ideasbut rather the needs for a certain production purpose.Almost every picture on this page was entirely created digital.I hardly use pencil and paper these days. Instead I try to takeadvantage of the possibilities of the computer and it's toolsto speed up the process. The Art of Lawrence Mai. Portfolio : Kieran Yanner – Concept Art & Illustration.
Portfolio Below is a body of work that represents a range of style, subject matter and type of art produced for a variety of clientele.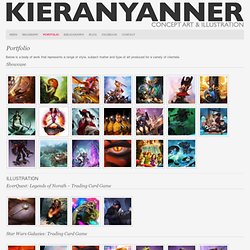 Showcase. Kolby Jukes - Character Artist. Pene Menn - Home. Concepts 1. AZMAKRIEG | Kemp Remillard Concept Art and d-sign. Hub. LiamKemp.com. Illustrations. JP Targete | Concept Designer | Character Designer | Creature Designer | Science Fiction & Fantasy Artist. Jon Foster Studios - sculpture. PSG 7.
Pene Menn - Concept Illustration - 20080411#4. The Official Website of Chad Michael Ward. Art. Rasyidxtreme. UNEARTHEDART.COM - The Art Of Gary Newman. - A P O L I T E W I N T E R - .: t3h-v.com :. Gallery Home - Gallery. Suzi9mm.com. Tor Frick - 3D artist. The OLIJOSMAN Gallery. The Art of Nicolette Newman. Steven Giesler. Concept design by Niklas Frostgård - Digital Paintings Gallery. Autodestruct.com - The Online Operations of Paul Richards. Ben Regimbal. Home - REDWHIRLPOOL - Nicolas Ferrand Concept Design Inc.
UBISOFT - REDWHIRLPOOL - Nicolas Ferrand Concept Design Inc. Thomaspecht.de. 300 - Gallery. NoXizMaD >>> 2D digital freelance artist (Paris) Sketches. JZ Concepts: Concept Artist James Zhang. Gallery - Portfolio.
---