Behind the Scenes
File Carving using Perl Tutorial. Description: File Carving, or sometimes simply Carving, is the practice of searching an input for files or other kinds of objects based on content, rather than on metadata.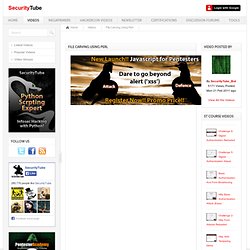 File carving is a powerful tool for recovering files and fragments of files when directory entries are corrupt or missing, as may be the case with old files that have been deleted or when performing an analysis on damaged media. Memory carving is a useful tool for analyzing physical and virtual memory dumps when the memory structures are unknown or have been overwritten.
Trenton Ivey (kno) from HackYeah.com submitted this video to us showing a file carving demo. According to his post to us - "In this episode I take a look at how to pull out ,jpg files from the middle of seemingly meaningless data. File Signatures. The following individuals have given me updates or suggestions for this list over the years: Devon Ackerman, Nazim Aliyev, Vladimir Benko, Arvin Bhatnagar, Sam Brothers, David Burton, Alex Caithness, Per Christensson, JMJ.Conseil, Cornelis de Groot, Jeffrey Duggan, Jean-Pierre Fiset, Peter Almer Frederiksen, Tim Gardner, Chris Griffith, Linda Grody, Andis Grosšteins, Paulo Guzmán, Rich Hanes, George Harpur, Brian High, Eric Huber, Broadus Jones, Axel Kesseler, Nick Khor, Bill Kuhns, Anand Mani, Kevin Mansell, Davyd McColl, Michal, Bruce Modick, Lee Nelson, Dan P., Jorge Paulhiac, Carlo Politi, Stanley Rainey, Cory Redfern, Bruce Robertson, Thomas Rösner, Anli Shundi, Erik Siers, Mike Sutton, Matthias Sweertvaegher, Erik van de Burgwal, Øyvind Walding, Jason Wallace, Daniel Walton, Franklin Webber, Mike Wilkinson, Gavin Williams, and David Wright.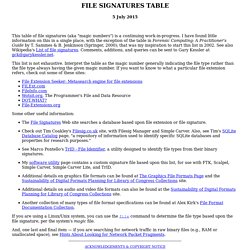 I thank them and apologize if I have missed anyone. Frhed - Free hex editor.
---