Gear
Motorradteile Bursig Webshop
DAM EXHAUST My Bike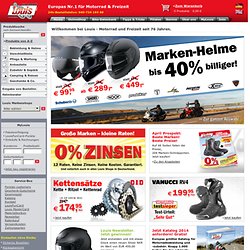 Willkommen bei Louis - Motorrad und Freizeit seit 76 Jahren. LouisFunCard –Die Rabattkarte 3-8% Rabatt mit jedem Einkauf. Jetzt gratis LouisFunCard anfordern, Punkte sammeln und mit jedem Einkauf sparen! »LouisFunCard anfordern
Hein Gericke
Polo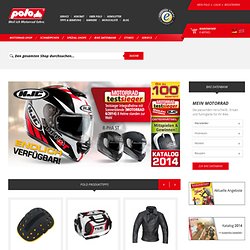 Der POLO Motorrad Online Shop bietet preiswerte Motorradbekleidung und Motorradzubehör für den Biker. Egal ob sicherer Motorradhelm, komfortable Motorradjacke, hochwertige Motorradbrille oder bequeme Motorradstiefel. Im POLO Motorrad Online Shop können Sie innovative Produkte in den Kategorien Motorradbekleidung, Motorradhelme, Motorrad Zubehör, Verschleißteile, Umbau & Styling, sowie Reisen, Camping & Gepäck, Navigation & Kommunikation und Motorrad Geschenkideen online bestellen. Ihr Spezialist für Motorradbekleidung, Motorradtechnik und Motorradzubehör mit den meisten Stores in Deutschland bietet neben dem umfassenden Motorradshop auch einen kostenlosen Katalog.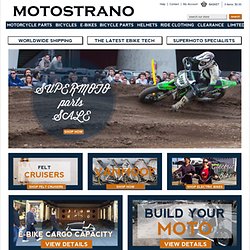 Motostrano
Motostrano began operation in 2002. We now have two stores dedicated to supermoto, bicycles, ebikes and service. Our products reflect our desire to offer unique products and services relating to new types of mobility and recreation. Supermoto is the activity of racing or riding motocross bike converted for riding on pavement. Electric bicycles extend the function and usability of the bicycle, combining the benefits of silent low speed motorized travel with the light weight aspects of bicycling.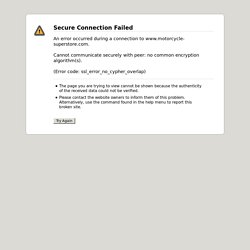 Motorcycle Superstore offers the best selection of motorcycle gear, parts, apparel and accessories for every style of rider and every bike type. Our site makes it easy to navigate a virtual plethora of street bike, cruiser and dirt bike necessities from over 600 of the most popular brands like Fox, Alpinestars, Icon, Bell, Dunlop and more. We also carry a huge selection of parts and accessories for scooters, ATV, UTV and snowmobiles as well
FC-Moto.de - Motorrad-Helme, Motorradbekleidung, Jet Helme & Cross Helme
Becker Classic Line
Davida :Manufacture and Worldwide Distribution of Motorcycle Helmets,Goggles,Vacuum Gauges and Accessories .