Harry Potter
Pottermore: a unique online Harry Potter experience from J.K. Rowling. HARRY POTTER AND THE DEATHLY HALLOWS - PART 2. Harry Potter. Since the release of the first novel, Harry Potter and the Philosopher's Stone, on 30 June 1997, the books have gained immense popularity, critical acclaim, and commercial success worldwide.[2] The series has also had some share of criticism, including concern for the increasingly dark tone.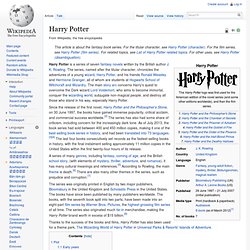 As of July 2013[update], the book series had sold between 400 and 450 million copies, making it one of the best-selling book series in history, and had been translated into 73 languages.[3][4] The last four books consecutively set records as the fastest-selling books in history, with the final instalment selling approximately 11 million copies in the United States within the first twenty-four hours of its release.
Plot. Character Building. Have you completed this questionnaire before?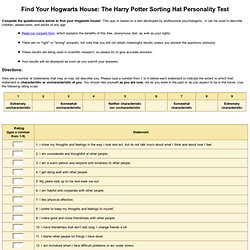 Yes No What is your gender? Wand. Wands You may like this, a detailed holly wand.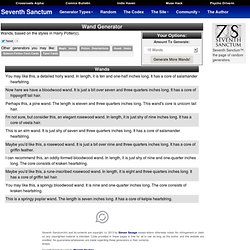 In length, it is ten and one-half inches long. It has a core of salamander heartstring. Patronus QUIZ. Patronus. Patroni This attractive patronus takes the form of a tarantula.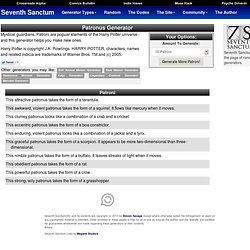 This awkward, violent patronus takes the form of a squirrel. It flows like mercury when it moves. This clumsy patronus looks like a combination of a crab and a cricket. HP Pictures. Sans titre | Flickr - Partage de photos !
---