Technology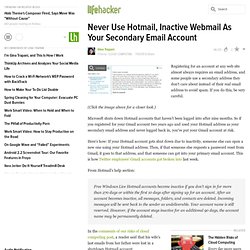 Never Use Hotmail, Inactive Webmail As Your Secondary Email Acco
Registering for an account at any web site almost always requires an email address, and some people use a secondary address they don't care about instead of their real email address to avoid spam.
Sound wave neurosurgery
Five Best Screencasting Tools - Screencast - Lifehacker
Thanks to broadband and some excellent screencasting applications, you don't need to limit yourself to mere static images when you're trying to show someone how to do something on your computer.
Entelligence is a column by technology strategist and author Michael Gartenberg, a man whose desire for a delicious cup of coffee and a quality New York bagel is dwarfed only by his passion for tech.
The Pen and The Keyboard