Tutos
Tutoriel de Cal l'Hippo
Conditions d'utilisation des tutoriels et gabarits de mes créations Avant d'utiliser ces données, merci de bien vouloir lire ce qui suit: Les créations "Mes p'tites cousettes sans prétention" dont je vous propose les tutoriels et gabarits sont des originales (que j'ai imaginées, patronnées et réalisées dans leur intégralité) et sont mises à votre disposition selon les termes ci-dessous: Donc, si vous souhaitez publier les photos ou tutoriels de mes créations sur vos pages facebook, site ou blogs perso, je n'y vois aucun inconvénient, du moment que vous mettez le lien vers ma page facebook ou vers mon blog "Mes p'tites cousettes sans prétention" : Je me réjouis déjà de partager un peu de ma passion "couturesque" avec vous! D'autre part, j'aimerai vraiment que vous m'envoyez une photo de vos Hippos, soit sur ma page facebook, soit à cette adresse e-mail: ptitescousettes@gmail.com Je me réjouis déjà de pouvoir admirer les frères et soeurs de Cal l'Hippo et Cal Hippette!!!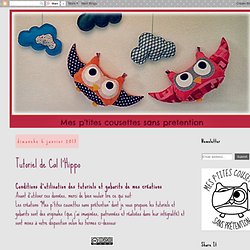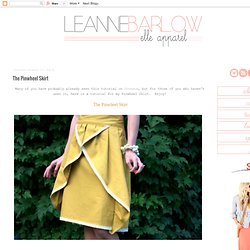 Many of you have probably already seen this tutorial on Ucreate, but for those of you who haven't seen it, here is a tutorial for my Pinwheel Skirt. Enjoy! The Pinwheel Skirt Lets get started…. You will need: 2 yards of fabric (make sure you chose fabric that hangs nicely.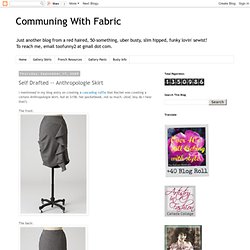 Self Drafted -- Anthropologie Skirt
I mentioned in my blog entry on creating a cascading ruffle that Rachel was coveting a certain Anthropologie skirt, but at $158, her pocketbook, not so much. (And, boy do I hear that!) The front: The back: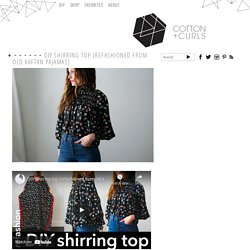 Well…another year has come and gone, and I feel as though I kept some of my resolution, kind of kept a few more and plain old broke a few other. But that has it is for many people, as long as you are trying, and changing you are succeeding in my book. Usually I hide little notes to remind me of those goals or little sayings I chant to myself every time I wake up or get in a situation. This year I have a lot of small resolutions like keeping my house, car, and kids tidy (yes, I have messy messy kids). Getting more organized and buy lots of bins so I can have a place for everything (I keep telling myself that there shouldn't be a "junk drawer" if there was a place for everything).
convertible/infinity dress
(this post was originally published on 29 june, 2006, with the title "one seam convertible dress".) have a question? please visit the convertible dress FAQ's.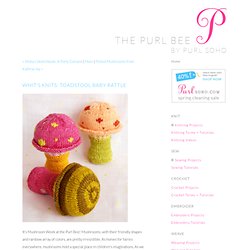 Toadstool Baby Rattle
It's Mushroom Week at the Purl Bee! Mushrooms, with their friendly shapes and rainbow array of colors, are pretty irresistible. As homes for fairies everywhere, mushrooms hold a special place in children's imaginations. As we grow up our fascination with mushrooms extends into more culinary or scientific directions, but I think those early stories of wood nymphs grabbing shelter from a sudden rainstorm under the eaves of a toadstool might have something to do with a lifelong attraction for mushrooms. It occurred to me recently that mushrooms are nature's perfectly engineered baby rattles.
Couleur bébé, Faire soi-même
des sacs, rien que des sacs Sac Inclassable: Mention Spéciale pour lesSacs Furoshiki (foulards savamment noués selon des techniques japonaises ancestrales pour tout porter et/ou empaqueter): http://raffa.grandmenage.info/ et ici: http://furoshiki.com/ ou ici: http://kokelikotage.canalblog.com/, ici aussi: http://callemariadelao.canalblog.com/ Sac à Main: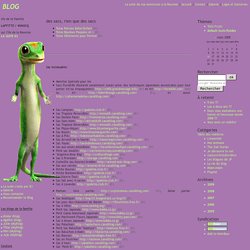 En surfant sur la toile, je vous ai trouvé quelque chose qui je pense saura intéresser certains d'entre vous : des patrons de couture gratuits (homme, femme, enfant…). Un de mes sites chouchou s'appelle Modern Sewing Patterns et voici le lien : http://m-sewing.com/. Vous allez me dire : » Mais voyons Sophie, c'est tout en anglais !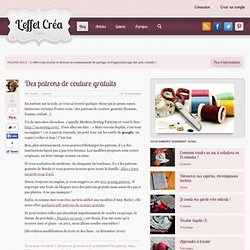 Vêtements Bébé et Enfant: Spécial Pour Bébé Prématuré: Pyjamas and co: <A HREF="http://ws.amazon.fr/widgets/q?ServiceVersion=20070822&MarketPlace=FR&ID=V20070822%2FFR%2Fblog072-21%2F8003%2Ff4c10085-61c9-42d6-ad62-f6527ff46ed4&Operation=NoScript">Widgets Amazon.fr</A> Culotte and co: