Travel
Adventure Travel adventure travel, antarctica travel, active travel, beach travel, costa rica travel, peru travel, africa travel, africa safaris, belize travel, central america travel, south america travel, ecuador travel, machu picchu travel, expeditions. Vacation rentals, private rooms, sublets by the night - Accommodations on Airbnb. How I Can Afford My Life Of Constant Travel. I'm confused.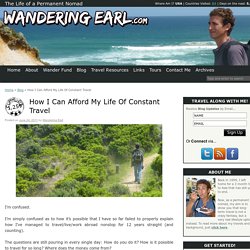 I'm simply confused as to how it's possible that I have so far failed to properly explain how I've managed to travel/live/work abroad nonstop for 12 years straight (and counting). The questions are still pouring in every single day: How do you do it? How is it possible to travel for so long? Where does the money come from? And while I thoroughly enjoy communicating with readers (I'm being completely serious and encourage you all to continue sending your emails to me as often as you wish), the fact that these very questions are on the minds of so many of you out there has led me to believe that I need to do a better job at providing the answers.
The 20 Best Travel Websites on the Internet - Golden Book Traveler. Update: Visit the 2012 version of The 20 Best Travel Websites on the Internet I hope that everyone who attended my SXSW Core Conversation panel on How to Make Money Traveling Around the World enjoyed the presentation.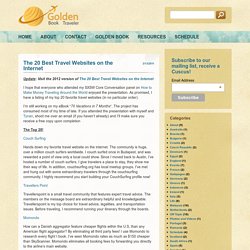 As promised, I have a listing of my top 20 favorite travel websites (in no particular order). I'm still working on my eBook "70 Vacations in 7 Months". The project has consumed most of my time of late. If you attended the presentation with myself and Tynan, shoot me over an email (if you haven't already) and I'll make sure you receive a free copy upon completion. How to Travel Full-Time for $17,000 a Year (or Less!) Wise Bread Picks For the last five years, I've been traveling the world full-time, and for less money than I've ever spent (and I'd wager less money than most people would spend) to live in one place.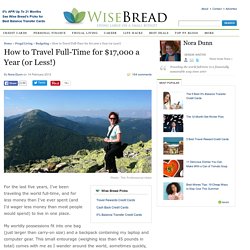 My worldly possessions fit into one bag (just larger than carry-on size) and a backpack containing my laptop and computer gear.
---