English
WinTick. Versió Web.
Let's call the whole thing off (Ella Firtzgerald and Louis Armstrong).wmv
Grammar
English grammar practice, help, and activities for ESL students and teachers
English Greetings Everyday Greetings | Special Greetings | Shaking Hands What to say | Formal to informal Sponsored Links Learn about greetings (requires Real Player). Everyday Greetings Special Greetings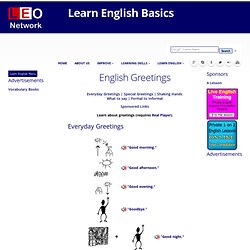 English Greetings - Learn English Basics
listening exercises: elementary level
Time
This, That, These and Those
Free English Language lessons and EFL exam practice
The alphabet song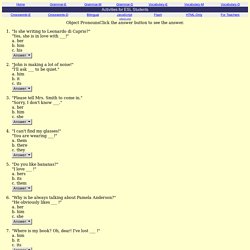 Object Pronouns (Joan M. Diez
a4esl.org Object Pronouns Click the answer button to see the answer. "Is she writing to Leonardo di Caprio?""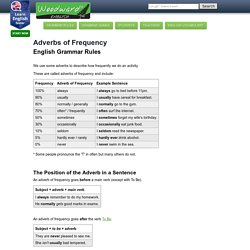 Adverbs of Frequency English Grammar - Adverbios de Frecuencia
We use some adverbs to describe how frequently we do an activity. These are called adverbs of frequency and include: * Some people pronounce the 'T' in often but many others do not. The Position of the Adverb in a Sentence
Practice 1
Singular and Plural
Position of adverbs of frequency - Exercise
Singular/Plural
Nationalities 1 - Bradley's Matching Pairs
You may not be able to visit this page because of: an out-of-date bookmark/favourite a search engine that has an out-of-date listing for this site a mistyped address you have no access to this page The requested resource was not found. An error has occurred while processing your request. Please try one of the following pages:
Elementary - Singular and Plural - English Power - School of English