Water
Get flash to fully experience Pearltrees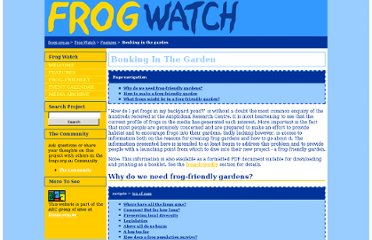 "How do I get frogs in my backyard pond?" is without a doubt the most common enquiry of the hundreds received at the Amphibian Research Centre. It is most heartening to see that the current profile of frogs in the media has generated such interest. More important is the fact that most people are genuinely concerned and are prepared to make an effort to provide habitat and to encourage frogs into their gardens.
Surveys from 45 developing countries show that women and children bear the primary responsibility for water collection in the majority of households. This is time not spent working at an income-generating job, caring for family members, or attending school. 12 443 million school days are lost each year due to water-related illness. 9 Diarrhea is the second leading cause of death among children under five in the world. Around 1.5 million deaths each year - nearly one in five – are caused by diarrhea.
H20 University Provided by the Southern Nevada Water Authority SAWS Education Provided by the San Antonio Water System Savingwater.org
The objective of sewage treatment is to produce a disposable effluent without causing harm to the surrounding environment, and prevent pollution . [ 1 ] Sewage treatment is the process of removing contaminants from wastewater and household sewage , both runoff ( effluents ), domestic, commercial and institutional. It includes physical, chemical, and biological processes to remove physical, chemical and biological contaminants. Its objective is to produce an environmentally safe fluid waste stream (or treated effluent ) and a solid waste (or treated sludge ) suitable for disposal or reuse (usually as farm fertilizer ).
How does wastewater treatment work? Wastewater treatment can encompass a number of steps, which filter, clarify and clean wastewater from start to finish. Currently, the CRD region employs a variety of wastewater treatments, some of which filter and some of which provide secondary treatment. Preliminary Treatment Preliminary treatment screens out coarse solids (rocks, rags, plastics, etc.) and grit (sand and gravel) which are normally sent to landfill.
BeachKids Play games and learn about beaches near you, or in other parts of the country. Drinking Water Extensive educational material available with activities and experiments for grades K-12. Estuaries Estuaries are where rivers meet up with oceans. Learn more about estuaries here, with games, activities, and virtual tours.