Kid Stuff
Get flash to fully experience Pearltrees
The Arc just launched a National Council of Self Advocates (NCSA) and is inviting individuals with intellectual and developmental disabilities (I/DD) across the country to join . The first national council of its kind, the NCSA will allow individuals with I/DD to join a network of leaders representing the full spectrum of ages and abilities, giving them a chance to support each other and provide learning opportunities as they grow as advocates in their communities. The NCSA was developed to foster the active involvement of individuals with I/DD in the work of The Arc. Its primary purpose is to empower persons with I/DD to voice their opinions about what is important to them and to ensure that they are afforded the same opportunities as everyone else to have a meaningful life in the community.
When the School Ignores Your Requests for Help by Pat Howey Print this page " I have asked and asked the school to give my child extra help. The school never does anything.
Special Education Menu Home Return to the Office of Special Education home page. Overview Overview of the Office of Special Education. Data & Reports Links to special education data as well as general NJ Department of Education data.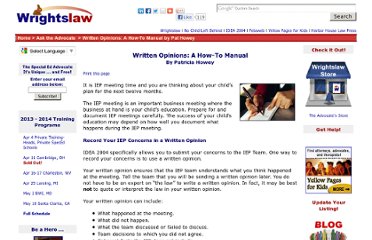 Written Opinions: A How-To Manual By Patricia Howey Print this page It is IEP meeting time and you are thinking about your child's plan for the next twelve months.
Education Law Center 60 Park Place, Suite 300 Newark, NJ 07102 Phone: 973-624-1815 TTY: 973-624-4618 Fax: 973-624-7339 Email: elc@edlawcenter.org For driving directions , please use Google Maps or Mapquest . There is an underground parking garage directly across from our building. The office is within walking distance of both the Broad Street and Newark Penn train stations. Please visit the New Jersey Transit website for schedule information. For press and media inquiries , please contact Sharon Krengel , ELC's Policy and Outreach Director, at extension 24.
The Best in Children's Literature We've gathered here many resources for sharing the joy of reading with children. By highlighting great books and authors we hope you'll find the books that unlock the love of reading in the children you care about. Themed Booklists Sometimes it just takes one wonderful book to turn a kid into a reader.