Social media
Mindful Infotention: Dashboards, Radars, Filters | City Brights: Howard Rheingold. Infotention is a word I came up with to describe the psycho-social-techno skill/tools we all need to find our way online today, a mind-machine combination of brain-powered attention skills with computer-powered information filters.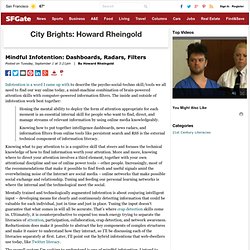 The inside and outside of infotention work best together: Honing the mental ability to deploy the form of attention appropriate for each moment is an essential internal skill for people who want to find, direct, and manage streams of relevant information by using online media knowledgeably.Knowing how to put together intelligence dashboards, news radars, and information filters from online tools like persistent search and RSS is the external technical component of information literacy.
Knowing what to pay attention to is a cognitive skill that steers and focuses the technical knowledge of how to find information worth your attention.
Curation
10 Ways a Social Intranet Can Help You Cut Down on Email. Social intranets benefit the enterprise by facilitating communication.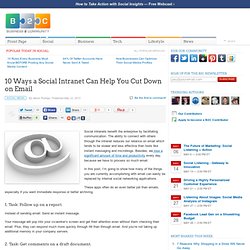 The ability to connect with others through the intranet reduces our reliance on email which tends to be slower and less effective than tools like instant messaging and microblogs. Besides, we lose a significant amount of time and productivity every day, because we have to process so much email. In this post, I'm going to show how many of the things you are currently accomplishing with email can easily be replaced by internal social networking applications. These apps often do an even better job than emails, especially if you want immediate response or better archiving. 50 Free Social Media Tools You Can't Live Without. A couple years ago, Jay Baer wrote a great blog post called 'The 39 social media tools I'll use today' which was an all-in-one toolkit for social media marketers (and still is).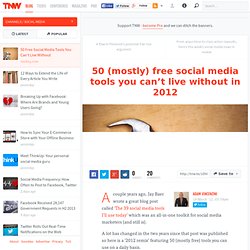 A lot has changed in the two years since that post was published so here is a '2012 remix' featuring 50 (mostly free) tools you can use on a daily basis. Whether you are just starting out in the social media arena or have been at it for a few years, this will hopefully be a handy resource. How Depressed People Use the Internet. Pinterest. PEG · Knowledge Workers in the British Raj. Note: This is the second part of a longer series on how social media is affecting management.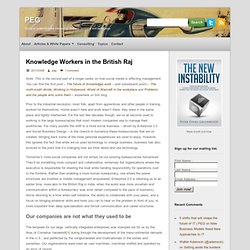 You can find the first post – The future of (knowledge) work – and subsequent posts – The north-south divide, Working in Hollywood, World of Warcraft in the workplace and Problems and the people who solve them – elsewhere on this blog. Prior to the industrial revolution, most folk, apart from apprentices and other people in training, worked for themselves. Home wasn't here and work wasn't there: they were in the same place and tightly intertwined. Long View: Jane Hart. Principal and Director of Collaboration Internet Time Alliance Bath, United Kingdom An independent consultant, speaker, and writer, Jane Hart is an internationally known specialist in the use of social media for learning and working.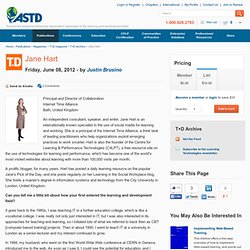 She is a principal of the Internet Time Alliance, a think tank of leading practitioners who help organizations exploit emerging practices to work smarter. Hart is also the founder of the Centre for Learning & Performance Technologies (C4LPT), a free resource site on the use of technologies for learning and performance, which has become one of the world's most visited websites about learning with more than 100,000 visits per month. A prolific blogger, for many years, Hart has posted a daily learning resource on the popular Jane's Pick of the Day, and she posts regularly on her Learning in the Social Workplace blog. She holds a master's degree in information systems and technology from the City University in London, United Kingdom.
---