Work CBS
Septic
License Lookup Electricians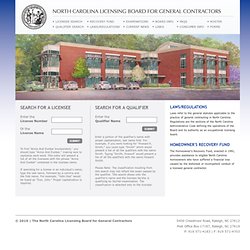 Search for a licensee To find "Acme And Dunbar Incorporated," you should type "Acme And Dunbar," making sure to capitalize each word. This entry will present a list of all the licensees with the phrase "Acme And Dunbar" contained in the licensee name. If searching for a license in an individual's name, type the last name, followed by a comma and the first name. For example, "John Doe" would be typed as "Doe, John."
NC Licensing Board-General Contractor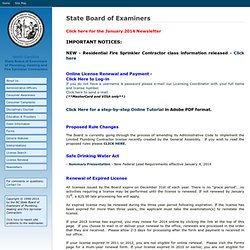 State Board of Examiners of Plumbing, Heating and Fire Sprinkler Contractors
Click Here to log-in If you do not have a username & password please e-mail our Licensing Coordinator with your full name and license number...click here to send e-mail Click Here for a step-by-step Online Tutorial in Adobe PDF format. Please note: Recent automatic updates to Microsoft Internet Explorer, Google Chrome, and Mozilla Firefox browsers may make your computer unable to fully complete the online renewal process. The site should be used with Internet Explorer 8, 9, or 10.
Franklin Weather Forecast and Conditions