Ebooks
Diverse Quellen zu Hörbüchern, Geschichten, ebooks und freebooks Aug 29
Freebook Sifter - Eine Ressource für gratis eBooks
Inhalt: Gott sei Dank, Gott existiert nicht. Wenn aber, was Gott verhüten möge, Gott doch existiert? So prall, so humorvoll und weise, so rasant und doch respektvoll ist selten über den Herrn aller Dinge geschrieben worden. Und so informativ wie Manfred Lütz stellte noch niemand diese Frage. Der Psychiater und Theologe liefert hier Denk- und Debattierstoff für Skeptiker und Fromme.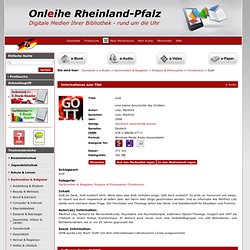 die Onleihe Verbund Rheinland Pfalz. Gott
1000 Geschichten berühmter Schriftsteller - Home
Leselupe.de - dichter am Text! Online-Literatur kostenlos lesen und schreiben!
World Public Library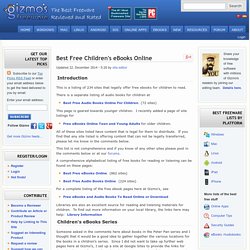 Free Children's Books Online
Introduction This is a listing of 234 sites that legally offer free ebooks for children to read. There is a separate listing of audio books for children at
ciando eBooks - Deutschlands großer eBook Store für PC, MAC und gängige eBook Reader
free - List of freely available programming books
Bibliothek
Bücher online lesen kostenlos - Buch schreiben & veröffentlichen
Free eBooks kostenlos (gratis) Download ePub PDF Mobipocket für PC und eBook Reader.
book2look Start
ManyBooks.net - Ad-free eBooks for your iPad, Kindle, or eBook reader
neobooks - einfach ebooks erstellen und Autor werden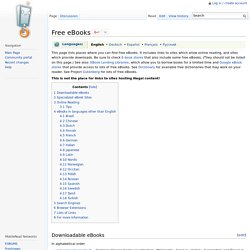 This page lists places where you can find free eBooks.
Free eBooks
Scribd
Free PDF Search Engine