Home
P.O.S.H. Chicago | Silverware, Restaurant China, Flea Market Finds
Branch: Sustainable Design for Living
simply modern design... from chiasso. request your free catalog today!
Modern Furniture & Designer Home Decor - Free Shipping
住宅ローンとマンション情報のハスカーホーム
Hi+LoModern - 20th Century Artifacts
Home
TC STUDIO
La Tête au Cube - La Tête Au Cube - Gang Parisien de création d'Objets Design, Déco Maison, Accessoires Tendance et Objets Customisables, le Tout Décalé
multi4m
Naked Decor
MXYPLYZYK
Modern Furniture | Lighting | Accessories | Office | Garden, Kitchen & Bathroom. Contemporary designs for architects, decorators, and designers
Mixing it Up – rumba style rumba style consists of vintage items that are creatively restored. We repaint, refinish and reupholster with a fresh new take on the original design. In addition, we create innovative reproductions of our favorite pieces.
re-invented original furniture designs - home decor
VivaTerra is the leading retailer of green home decor. We feature products crafted from eco materials such as recycled glass and reclaimed wood and designs inspired by the natural world. Many of our products are handmade by artisans around the globe, as well as in the USA. At VivaTerra you'll find reclaimed wood beds, shelving and tables, recycled glass dinnerware, vases and home accents, organic cotton sheets, quilts and bedding and much more eco home décor. We also feature a large assortment of unique gifts, including our collection of distinctive plants like succulents, bonsai, topiaries and Hawaiian volcano plants.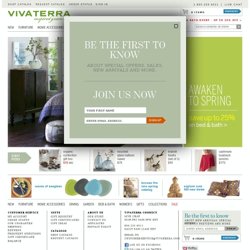 Home Page - VivaTerra
JELLIO: FUN… By Design
Products
unison
AREAWARE
FRED Products Main
Merchant no. 4 - Home page