Applications
וואלה!
Gmail - Inbox (28) - racheli.no1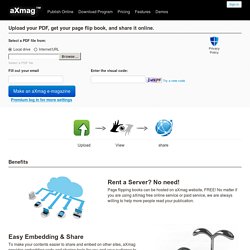 PDF to Flash page flip book – Submit to free convert PDF to magazine
aXmag tells how to easily create a fantastic flipping page publication in a flash form within 3 simple steps. Which is free, you can view and send out the converted flash page flip magazine as soon as aXmag online conversion is finished. Follow the steps to convert your PDF to flash page flip magazine. Please select the PDF file. Select a PDF file from: Only PDF accepted, 10M (Max.) .
iGoogle
RGweb - Home
The Resources - Paul's E-Learning Resources
little-guide-to-digital-media
Welcome to BigAmbition - BigAmbition - Your Digital Career Starts Here
Oxfordshire Learning Platform
EdMediaShare | Explore