Sewing
Free Clothes Patterns. Posted on | October 9, 2008 | 7 Comments I originally became interested in patternless sewing, many years ago, because I had a hard time finding patterns in my size.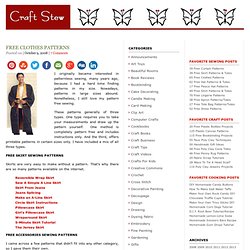 Nowadays, patterns in large sizes abound. Nonetheless, I still love my pattern free sewing. These patterns generally of three types. One type requires you to take your measurements and draw up the pattern yourself. Easy Ruffled T-shirt Scarf. Today was one of those rare, laid-back Sundays.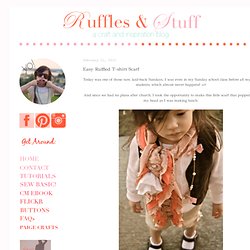 I was even in my Sunday school class before all my little students, which almost never happens! :o) And since we had no plans after church, I took the opportunity to make this little scarf that popped into my head as I was making lunch. I intended to make it for myself, but I didn't have quite enough material from these two old, ill-fitting shirts of mine, so I made one for Paige! It was so easy. Anthropologie Pratia Tank Top Tutorial. February 6, 2010 1:59 pm Per popular demand, here is the Pratia tank tutorial!
Start off with a t-shirt or tank top. What I did was get a larger t-shirt so I could gather it at bottom like the pratia tank. I cut off the sleeves so it would be a tank. Measure your neckline and get a piece of chiffon that length and fold it in half. Fully lined zippered box pouch - pattern and tutorial - it's a Pretty Modern life. I love the look of a zippered box pouch...so incredibly cute.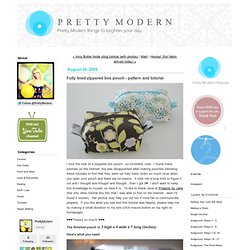 I found many tutorials on the internet, but was disappointed after making pouches following these tutorials to find that they were not fully lined; looks so much nicer when you open your pouch and there are no seams. It took me a long time to figure it out and I thought and thought and thought...then I got it♥ I don't want to keep this knowledge to myself, so here it is.
I'd like to thank Jane at Projects by Jane (the only other tutorial like this that I was able to find on the internet - wish I'd found it sooner). Her photos may help you out too if mine fail to communicate properly. Perfect Box Pouch Tutorial ? Make it Modern. How insanely fabulous is this pouch?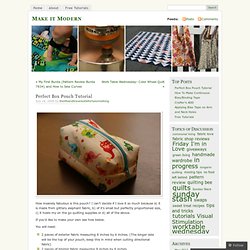 I can't decide if I love it so much because a) it is made from glittery elephant fabric, b) of it's small but perfectly proportioned size, c) it holds my on the go quilting supplies or d) all of the above. If you'd like to make your own see how below. You will need: 2 pieces of exterior fabric measuring 8 inches by 6 inches. Tutorial: how to sew a simple maxi dress. Make a t-shirt headband. Of all the headbands I've made, I think this is my new favorite.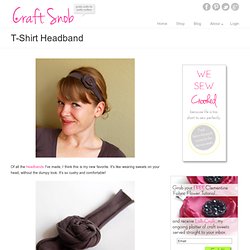 It's like wearing sweats on your head, without the dumpy look. It's so cushy and comfortable! And yes, I am wearing the shirt with the bottom cut off in the picture. Hey, I needed something to match okay? How to Sew a Cutout Beret. February 25th, 2010 Email 119 users recommend Layer felt to create a colorful motif for your beret.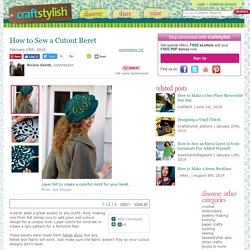 Free sewing project: Fascinator Headpiece.
---