Food
A sweet Valentine's Day dessert - Conversation Heart Cheesecakes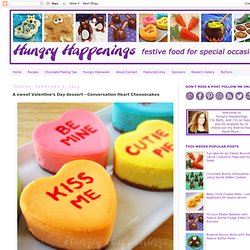 I've heard people, including my husband, say, "I've never met a cheesecake I didn't like." Well, I can't say the same. I've been known to pay upwards of $10 for a slice of cheesecake and take one bite and shove it aside. To me, cheesecake should be so lusciously creamy and smooth that it just melts in my mouth, and tastes delicately rich with just a hint of tang from the cream cheese. I wont settle for dense, spongy, crumbly and or sour cheesecake; it better be good if I'm going to indulge in that may calories. If its bad, I'd rather throw it away, or feed it to my less picky husband:)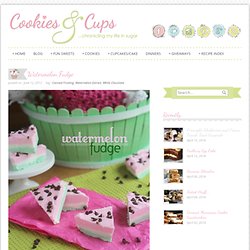 My kids get out of school this week. It's a blessing and a curse. No more schedules, no more homework, no more packing lunches… In it's place, I get kids home all day. Everyday.
Watermelon Fudge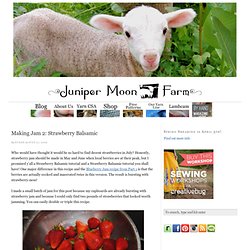 Making Jam 2: Strawberry Balsamic
Who would have thought it would be so hard to find decent strawberries in July? Honestly, strawberry jam should be made in May and June when local berries are at their peak, but I promised y'all a Strawberry Balsamic tutorial and a Strawberry Balsamic tutorial you shall have! One major difference in this recipe and the Blueberry Jam recipe from Part 1 is that the berries are actually cooked and macerated twice in this version. The result is bursting with strawberry-ness! I made a small batch of jam for this post because my cupboards are already bursting with strawberry jam and because I could only find two pounds of strawberries that looked worth jamming. You can easily double or triple this recipe.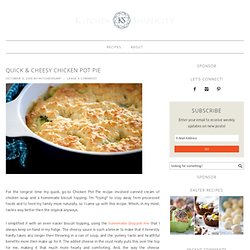 Quick & Cheesy Chicken Pot Pie
For the longest time my quick, go-to Chicken Pot Pie recipe involved canned cream of chicken soup and a homemade biscuit topping. I'm *trying* to stay away from processed foods and to feed my family more naturally, so I came up with this recipe. Which, in my mind, tastes way better then the original anyways.
Food - Recipes : Fairy cakes
This deliciously addictive treat was introduced to me at a place called The Rocky Mountain Chocolate Factory. Ever been there? They have shelves and shelves of delicious looking candy apples and homemade fudge that I would always be THIS close to buying…but being a bit of a cheapskate I always went for one of the least expensive thing there…the Avalanche Bar.
Avalanche Bars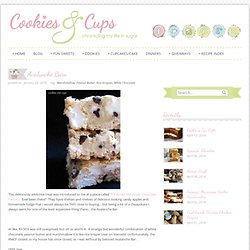 Proper Pizzas
This recipe is almost too good to share... but seeing as it's you, I'll spill.This is the only pizza base recipe you'll ever need.Once you've made it, you'll soon know it by heart and be able to whip it up in a flash.Soon you'll be so used to your delicious, thin, crispy, chewy pizzas that you wont be able to look at a Dominos in the same way again!I kept mine simple with a tomato sauce, a swirl of homemade pesto and buffalo mozzarella, but you can use anything that takes your fancy. Four cheeses? Peperoni? Black olive, anchovy & fried egg pizza anyone?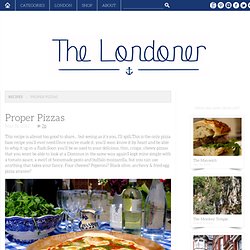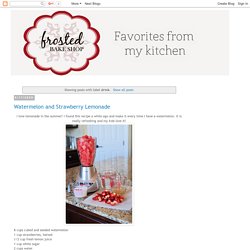 I love lemonade in the summer! I found this recipe a while ago and make it every time I have a watermelon. It is really refreshing and my kids love it! 8 cups cubed and seeded watermelon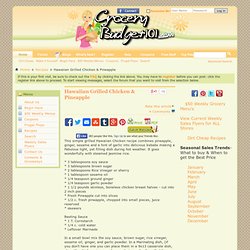 The following content was Provided by www.GroceryBudget101.com "We're Not Penny Pinching, We're Benji Pinching!" This simple grilled Hawaiian Chicken recipe combines pineapple, ginger, sesame and a hint of garlic into delicious kebabs making a Fabulous light, yet filling dish during hot weather. It goes wonderfully with steamed jasmine rice. * 3 tablespoons soy sauce * 3 tablespoons brown sugar * 2 tablespoons Rice Vinegar or sherry * 1 tablespoon sesame oil * 1/4 teaspoon ground ginger * 1/4 teaspoon garlic powder * 1 1/2 pounds skinless, boneless chicken breast halves - cut into 2 inch pieces * Fresh Pineapple cut into slices * 1/2 c. fresh pineapple, chopped into small pieces, juice reserved * skewers
GroceryBudget101.com- - Hawaiian Grilled Chicken & Pineapple | Grilled chicken Recipes