Makes Me Think
Barcode Yourself by Scott Blake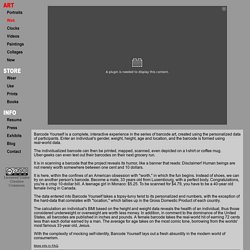 Barcode Yourself is a complete, interactive experience in the series of barcode art, created using the personalized data of participants. Enter an individual's gender, weight, height, age and location, and the barcode is formed using real-world data. The individualized barcode can then be printed, mapped, scanned, even depicted on a t-shirt or coffee mug. Uber-geeks can even test out their barcodes on their next grocery run. It is in scanning a barcode that the project reveals its humor, like a banner that reads: Disclaimer!
If You Have...
Amanda Car Dear FutureMe, Our daughter Amanda, today March 30 2006 has told us, after asking what kind of car she wanted for her 16th birthday that "I DO... sent 8 years into the future, to Today A LETTER FROM THE PAST Dear FutureMe, Hey, how are you?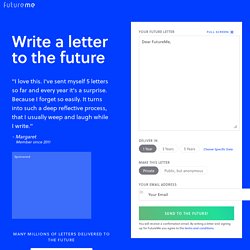 FutureMe.org: letters to the future
Some paradoxes - an anthology
Click the W links for related Wikipedia articles If you have enjoyed this site, please show your appreciation by making a donation here to the Hope Projects, supporting and accommodating destitute and homeless asylum-seekers in the UK. Catch-22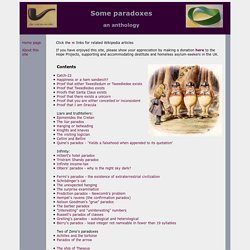 I came across a slightly mysterious website -- a collection of Polaroids, one per day, from March 31, 1979 through October 25, 1997. There's no author listed, no contact info, and no other indication as to where these came from. So, naturally, I started looking through the photos. I was stunned by what I found. In 1979 the photos start casually, with pictures of friends, picnics, dinners, and so on.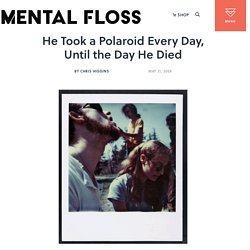 He Took a Polaroid Every Day, Until the Day He Died
Inspiration Gallery #139 – Various quotations
40 Belief-Shaking Remarks From a Ruthless Nonconformist | Raptitude.com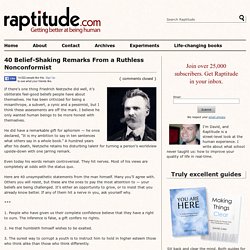 If there's one thing Friedrich Nietzsche did well, it's obliterate feel-good beliefs people have about themselves. He has been criticized for being a misanthrope, a subvert, a cynic and a pessimist, but I think these assessments are off the mark. I believe he only wanted human beings to be more honest with themselves. He did have a remarkable gift for aphorism — he once declared, "It is my ambition to say in ten sentences what others say in a whole book."
10 Amazing Tricks to Play with your Brain
Mind is the aspect of intellect and consciousness experienced as combinations of thought, perception, memory, emotion, will and imagination, including all unconscious cognitive processes. Mind manifests itself subjectively as a stream of consciousness. Neuroanatomists usually consider the brain to be the pivotal unit of what we refer to as mind. The Human Brain tricks us whenever it can.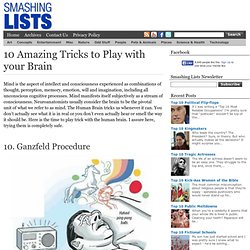 natural architecture - an emerging art movement that is exploring mankind's desire to reconnect to the earth, through the built environment.
© copyrights designboom, all rights reserved. all material published remains the exclusive copyright of designboom. no contents, including text, photographs, videos, etc. may be reproduced in whole or in part without the written consent of designboom. in addition, no material or contents may be reproduced on the world wide web by techniques of mirroring, framing, posting, etc. without the written consent of designboom.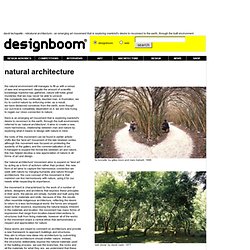 'american kills' installation 'american kills' by chilean-born new york based artist sebastian errazuriz is a public installation showcasing the suicide rates of US soldiers. after searching on official war sites on the internet, he accidentally found out that 2 times more american soldiers had died in 2009 by committing suicide than those killed during that same year in the war in iraq; an alarming comparison that errazuriz had personally never read or heard about before. according to the artist, a first google search showed only reports of media alarm about suicide rates, but the information was always comfortably presented divided into months and generally separated by statistics from the army, navy or air-force. 'when I first found the overall statistics summed the 304 suicides by US soldiers during 2009, I was shocked.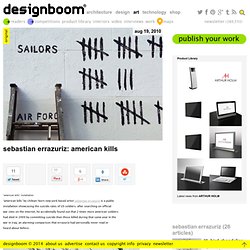 sebastian errazuriz: american kills