Travel
Luxurious Le Meridien Bora Bora Resort - 1 Kind Design 1 Kind Design. Sep2 Advertisement 1.1K Flares1.1K Flares × Le Méridien Bora Bora is a contemporary and elegant luxury resort set on a magnificent islet surrounded by the most beautiful lagoon in the world and offers stunning sights over Mount Otemanu.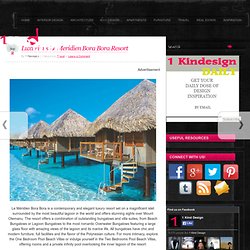 Sri Panw a Resort - Great Hotel with the Best View in the World, Thailand. Home » Architecture » Sri Panw a Resort – Great Hotel with the Best View in the World, Thailand Sri Panwa Resort is one of the most seductive hotels in the world.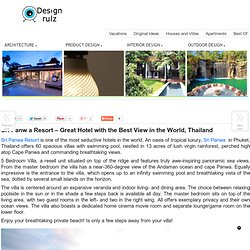 An oasis of tropical luxury, Sri Panwa in Phuket, Thailand offers 60 spacious villas with swimming pool, nestled in 13 acres of lush virgin rainforest, perched high atop Cape Panwa and commanding breathtaking views. 5 Bedroom Villa, a resell unit situated on top of the ridge and features truly awe-inspiring panoramic sea views. Intimate tropical hideaway: Misool Eco Resort - 1 Kind Design 1 Kind Design. Paradise-Like Coco Palm Bodu Hithi Resort, Maldives. Launched in 2007, Freshome is a weblog devoted to uncovering (and sharing) the latest and greatest products in Architecture and Design.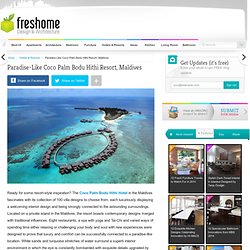 Freshome was launched in March 2007 and has grown rapidly to become one of the most popular and influential architecture and design blogs on the internet. We now get more than 3,8 million visits a month, and traffic is growing every month. The primary focus of this design publication is to give you inspiration to make your home more beautiful, organized and healthy. We believe that a calm, healthy, beautiful home is a necessary foundation for happiness and success in the world.
This floating movie theater might just be the coolest place on Earth | Technology News Blog. The Archipelago Cinema was created for the debut of a new Thai film festival Movie theaters are inherently awesome places to be on their own, evoking memories of past big-screen adventures and nights spent eating popcorn and candy for supper.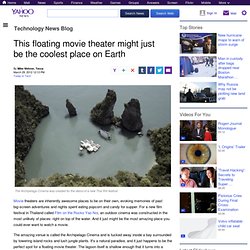 For a new film festival in Thailand called Film on the Rocks Yao Noi, an outdoor cinema was constructed in the most unlikely of places: right on top of the water. And it just might be the most amazing place you could ever want to watch a movie. The amazing venue is called the Archipelago Cinema and is tucked away inside a bay surrounded by towering island rocks and lush jungle plants. Kapell Bridge. Esbelli Evi - Cave Hotel | Cave Inn - Urgup, Cappadocia, Turkey - The 50 Best Travel Websites - News & Advice - Travel. I-escape.com A one-stop shop for tracking down independently owned, stylish and usually small places to stay around the world.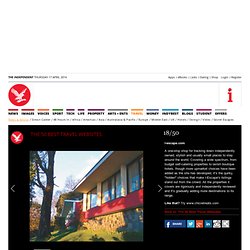 Covering a wide spectrum, from budget self-catering properties to lavish boutique hotels, though more upmarket choices have been added as the site has developed, it's the quirky, "hidden" choices that make I-Escape's listings stand out from the crowd. All the properties it covers are rigorously and independently reviewed and it's gradually adding more destinations to its range. Like that? Try www.chicretreats.com. Tree House - StumbleUpon. The Ultimate Travel Hacking Guide - StumbleUpon.
Referring to this quote: "On our example, this doesn't work because we are going from the United States to England and the English Pound is worth more than the US dollar. Additionally, the Iceland Krona is not worth less than a dollar. However, if we were going the reverse way, this would work. I've used this method when flying to New Zealand since their currency is worth less than the US currency. " I want to bring up an important point about currency exchange that is often missed or glossed over: it doesn't matter one bit if the unit of the foreign currency is worth more or less than one dollar. Those examples are meaningless without knowing how much whatever it is costs in BOTH currencies and the current exchange rate between them. Best Breakfasts in America - US Restaurants with Best Breakfast. Greek civilization seems to have peaked a while back, at least in terms of philosophy, science, and epic poetry, but that doesn't mean they don't honor the tradition of serving a killer breakfast in dozens of diners across the breadth of northern New Jersey.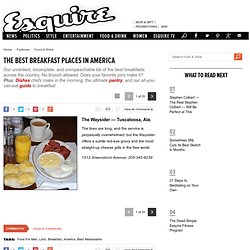 It's a heritage: In Plato's Symposium, there's a dialogue between Socrates and some yold named Agathon, clarifying the true nature of the feta-and-spinach omelet. Agathon finally yields to the logic behind the bagel on the side instead of toast, there being nothing to sop up. "I can't find any way of withstanding you, Socrates," he says. "Let it be as you say. " "Not at all," says Socrates. Jumeirah Vittaveli Resort in Maldives. By Eric • Dec 28, 2011 • Selected Work Jumeirah Vittaveli is a brand new Resort developed by Jumeirah Hotels & Resorts that opened earlier this month.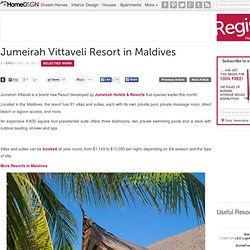 Located in the Maldives, the resort has 91 villas and suites, each with its own private pool, private massage room, direct beach or lagoon access, and more. An expansive 8,600 square foot presidential suite offers three bedrooms, two private swimming pools and a deck with outdoor seating, shower and spa. Villas and suites can be booked all year round, from $1,143 to $10,000 per night, depending on the season and the type of villa. Airplane Travel Tips - 100 Words or Less - Gadling. Travel destinations, adventure travel, adventure holidays, vacation travel, travel packages, vacations to, tours of, expeditions, group tours, family tours, costa rica travel, galapagos travel, peru travel, adventures travel, family adventure travel - Stu. The Luxury Dhigu Resort, Maldives | Luxury Furniture, Property, Travel & Interior Design | Adelto. 100 Incredible Views Out Of Airplane Windows.
The New Doughnut Rage: Newfie Tongues! The October 2010 Daring Bakers' Challenge was hosted by Lori of Butter Me Up.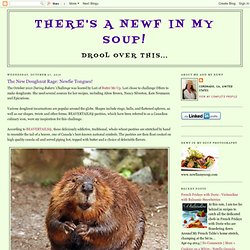 Lori chose to challenge DBers to make doughnuts. She used several sources for her recipes, including Alton Brown, Nancy Silverton, Kate Neumann and Epicurious. Various doughnut incarnations are popular around the globe. 9 Nerdy Film Locations You Need to Visit in Your Lifetime | Underwire |... Wired.com is presenting a collection of galleries intended to help people become better geeks, nine items at a time.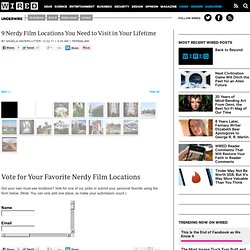 This is the seventh in the 9 for 9 series. - - - From Star Wars to Lord of the Rings, the spectacular geek destinations in the gallery above are some of the coolest movie locations on the planet. They're from films you've probably seen, but you'd have to be a well-traveled cinephile to have visited them all.We understand that to hit all these cinematic hot spots would be a time- and money-intensive affair, but we still made sure all the places on the list are actually locations that people can visit. Baby chameleons photo | one big photo - StumbleUpon. Random photo Submit your photo Stumble Thru animal photography Tags: 10 Wonders of the World You Don't Know - StumbleUpon. Our World While most of these wonders will be known to a few people, they are, on the whole, not as well known as the famous "seven wonders".
Despite that, each has a reason for being considered wonderful and deserves its spot on this list. Enjoy the list and be sure to share other lesser-known wonders in the comments. Banaue Rice Terraces Philippines. Amazing Places To Experience Around The Globe (Part 1) - StumbleUpon. Preachers Rock, Preikestolen, Norway Blue Caves - Zakynthos Island, Greece Skaftafeli - Iceland Plitvice Lakes – Croatia Crystalline Turquoise Lake, Jiuzhaigou National Park, China Four Seasons Hotel - Bora Bora.
South America. North America. Museums. Africa. Lists! Europe.
---