Purses
Happy Easter! *Click here to see the tutorial for this project* One of my besties, Nicole(Nikki), recently got a new iPod touch, and by recently I mean...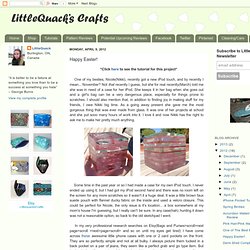 November? Not that recently I guess, but she for real recently(March) told me she was in need of a case for her iPod. She keeps it in her bag when she goes out and a girl's bag can be a very dangerous place, especially for things prone to scratches. 10 Free Tote Bag Patterns and Tutorials | Skip To My Lou - StumbleUpon. Totes make great handmade gifts.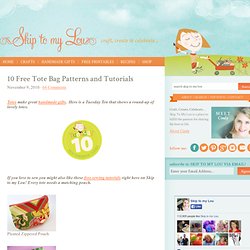 Here is a Tuesday Ten that shows a round-up of lovely totes. If you love to sew you might also like these free sewing tutorials right here on Skip to my Lou! Every tote needs a matching pouch. Pleated Zippered Pouch Lined Zippered Pouch. New Green Mama: Reversible Messenger Bag Tutorial - StumbleUpon. Here's what you will need: Main body -2 pieces of home dec weight fabric or corduroy measuring 14" x 12" (Fabric A) Main body-2 pieces of contrasting home dec weight fabric measuring 14" x 12" (Fabric B) Flap- 1 piece of Fabric A- 12" x 11.5" Flap- 1 piece of Fabric B- 12" x 11.5" Back Pocket- 1 piece of Fabric A- 14" x 8"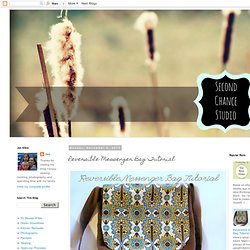 Sew a bag with the free bag pattern | Sew Easy - StumbleUpon. Make your own 6-pocket mini pocketbook and stay organized — insatiable need. I'm sure that many of you, like me, are on an eternal quest for organization.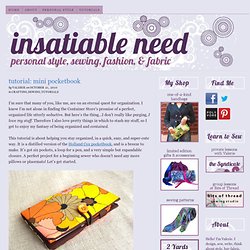 I know I'm not alone in finding the Container Store's promise of a perfect, organized life utterly seductive. But here's the thing…I don't really like purging, I love my stuff. Therefore I also love pretty things in which to stash my stuff, so I get to enjoy my fantasy of being organized and contained.
---