Prezels
Buttery Soft Pretzels Recipe
Pretzel Rolls | Pretzel Rolls Recipe | Gourmand Recipes
R emember at the beginning of World Vegan Month when I said I'm a ninety percenter ? Well, here's something I did this weekend. I had like ninety percent of my hair chopped off.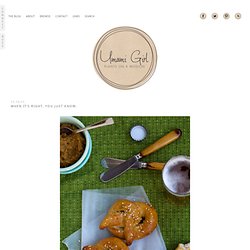 When it's right, you just know. | Umami Girl
We've been hosting a get-together at our house on Super Bowl Sunday since we moved in a few years ago. Most (if not all) of our friends are Patriots fan, but even when the Patriots don't make it to the big game, we still like getting together to watch the game (and the commercials) and enjoy some good food! Last night's game was really exciting and we definitely enjoyed watching the Saints win so congratulations to all of their fans! Hopefully next year the Patriots will be back in the Super Bowl :) I actually didn't make much food for our party this year since it was a small gathering.