Easter Recipes
Get flash to fully experience Pearltrees
Today I ring in the big 3-1. No longer am I merely 30, but I am in my 30′s . So weird, especially since I still don't really feel too much like a grown up And as I like to do every year, I baked something new and different to celebrate with.
Your Cup of Cake Lizzy Early Get New Recipes Delivered!
These Chocolate Chip Cookie Cupcakes started out being something a little different. First, I thought I wanted to make a blondie cupcake. I mean, brownie cupcakes like this one are the bomb , so a blondie cupcake can't be far behind. Then I decided I wanted to add chocolate chips. It was necessary.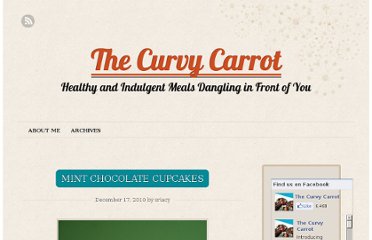 I decided to take a different approach with the whole chocolate/mint holiday theme. I love candy canes (aka peppermint), and I wanted to share a minty recipe for the holidays but minus the candy canes. I don't know. Call me picky. I've just seen a lot of chocolate/peppermint recipes lately, so I wanted to stir it up a bit.
Double Chocolate Mocha Crunch Cupcake ~ These are messy. Don't be fooled by the pretty piping. I dare you to bite into that highly stacked chocolate buttercream frosting and not get it all over your face. Remember those Carls Jr. commercials, "If it doesn't get all over the place it doesn't belong in your face"?
Preheat the oven to 350 F. Line muffin pan with paper liners. In a medium bowl, whisk together the flour and cocoa powder. In the bowl of a stand mixer fitted with the paddle attachment, cream together the butter, sugar, salt, baking soda, vanilla, and coconut extract until fluffy and light, at least 3-4 minutes. Add eggs, one at a time, beating until each is incorporated, scraping down sides of bowl as needed. With the mixer on low speed add in the dry ingredients in three batches, alternating with the milk beating just until combined.
I don't think there are enough key lime cupcake recipes out there. When I got the idea to make some, I didn't find many recipes on the Web and I ended up adapting a lemon cake recipe. The result was a moist cupcake lightly fragrant with key lime, which was echoed in the frosting. To boost the key lime factor, you can add more zest. Lime oil is another possibility, but adding more juice could dilute the batter. But considering the praise these got, I think their lime factor was just fine.
Toffee Crunch Cupcake Toffee Crunch Cupcake with Caramel Frosting ~ Grab your toffee crunch in a cupcake crumb with a little caramel frosting dipped in some chocolate and rimmed with chocolate covered toffee bits. Its decadence meets gluttony-but should a cupcake be anything else but that?
Today's post is going to be short, but sweet. Since I'm feeling a bit under the weather, I hope these cupcakes will help you to forgive me. Coconut and pineapple have always been on my list of favorite fruits. I used to buy gallons of organic coconut pineapple juice at the store (which I would try not to drink in one sitting). For some reason it never occurred to me to combine this wonderful combination with alcohol.
Posted on Saturday, 12th March 2011 by Grace Massa Langlois If you haven't noticed, all I can think about lately is warmer weather. It's surprising because as I write this I am facing the window and all I can see are giant falling snowflakes. But today is no different; I have summer on the brain. So what's a girl to do?
I am not sure what all of your new years resolutions are, but I hope they don't involve cutting out sweets because I have so many delicious sweet recipes to post in the next couple of weeks! If you are taking the bold step and trying to cut out sweets, I will have plenty of healthier recipes coming up too, so you are safe but I would still encourage you to try to the sweets! This semester I promised my photography professor that I would bake him something and I was told by his roommate that he loved snickerdoodles.
I entered these s'more cupcakes into the Cupcake Camp Montreal baking competition and was a finalist for Amateur Design. I spent weeks working on these cupcakes to make them just right, changing around ingredients, varying the method of the recipe, mixing up the design. Five well thought out batches later, I came up with these.
In case you haven't noticed yet by reading my blog, I LOVE cupcakes! I wish I had more excuses to make them so I could bake them more often, because let's face it: there's no way I'm going to bake a batch of cupcakes and let them sit in our house with just Tony and I. There's no way we could ever resist that kind of temptation!