Drinks
Cupcake month kick-off. Several people I know are celebrating birthdays in May, and I have already been thinking about what I would be making for each of them.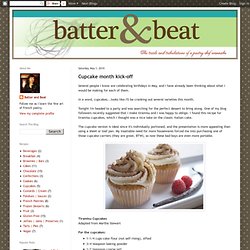 In a word, cupcakes...looks like I'll be cranking out several varieties this month. Tonight I'm headed to a party and was searching for the perfect dessert to bring along. One of my blog followers recently suggested that I make tiramisu and I was happy to oblige. Mocha Cupcakes with Espresso Buttercream Frosting. You'll be happy to know that I have recovered from my epic kitchen fail, the oven is sparkling, and to celebrate I give you these amazing mocha cupcakes with espresso buttercream frosting.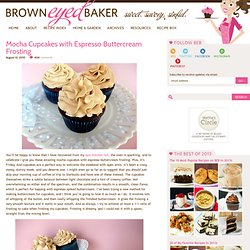 Plus, it's Friday. And cupcakes are a perfect way to welcome the weekend with open arms. Caramel Frappuccino Cupcakes. Caramel Frappuccino cupcakes...doesn't that sound divine?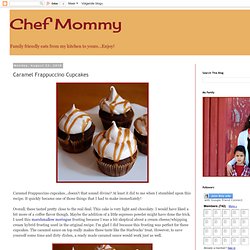 At least it did to me when I stumbled upon this recipe. It quickly became one of those things that I had to make immediately! Overall, these tasted pretty close to the real deal. This cake is very light and chocolaty. Cherry Coke Float Cupcakes. Wednesday, July 28, 2010 Cherry Coke Float Cupcakes* Why is there so much hate for the number 3?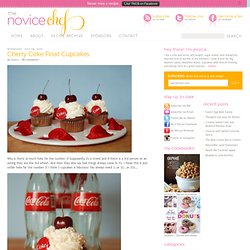 Supposedly 3′s a crowd and if there is a 3rd person on an outing they are the 3rd wheel. And then they also say bad things always come in 3′s. Pink Lemonade Cupcakes. I've been dreaming up these cupcakes for awhile now, and although I didn't have any specific occasion to bake, I decided to just go ahead and celebrate the warmer weather with cupcakes.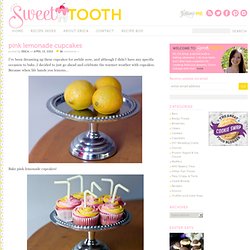 Because when life hands you lemons… Bake pink lemonade cupcakes! Root Beer Float Cupcakes Recipe. I just wanted to show you that, because I think it's funny.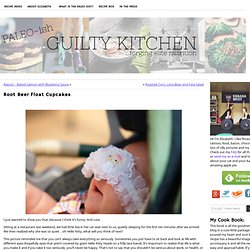 And cute. Sitting at a restaurant last weekend, we had little Isla in her car seat next to us, quietly sleeping for the first ten minutes after we arrived. We then realized why she was so quiet…oh Hello Kitty, what will you think of next? Dulce De Leche Filled Cupcakes With Dulce De Leche Swiss Meringue Buttercream | Divine Baking. (Whew that is a long title for cupcakes.... ) This past Wednesday was one of my best friend's 21st birthday!
When I spoke to him on the phone I asked what he would like me to bake for him. After a few "I don't care" and "I like everything" we settled on dulce de leche cupcakes. Poor Girl Gourmet: Egg Nog-Hazelnut Cupcakes with Nutella Buttercream Frosting. So perhaps shopping for gifts is now out of the question, what with just a handful of shopping days to go.
If that's the case, I strongly suggest that you make these cupcakes, as they surely count as a gift. Egg Nog-Hazelnut Cupcakes with Nutella Buttercream Frosting Ingredients 1 cup + 2 tablespoons unbleached all-purpose flour 1/2 cup + 2 tablespoons ground toasted hazelnuts (see note below) 1 1/2 teaspoons baking powder 1/2 teaspoon ground cinnamon 1/4 teaspoon ground nutmeg 1/4 teaspoon kosher salt 1/2 cup (1 stick) unsalted butter, softened 1 cup dark brown sugar 1/2 cup granulated sugar 3/4 cup egg nog 2 large eggs 1 teaspoon vanilla extract. Chocolate Mocha Cupcake. Double Chocolate Mocha Crunch Cupcake ~ These are messy.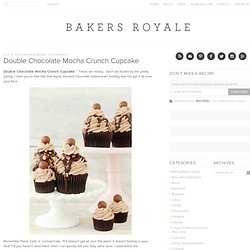 Don't be fooled by the pretty piping. I dare you to bite into that highly stacked chocolate buttercream frosting and not get it all over your face. Remember those Carls Jr. commercials, "If it doesn't get all over the place it doesn't belong in your face"? Caramel Cappucino Royale Cupcakes. Caramel Cappucino Royale Cupcakes ~ Non-news flash: Cupcakes aren't going to be a passing fad anytime soon.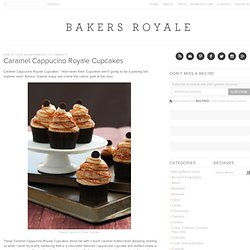 Advice: Submit, enjoy and check the caloric guilt at the door. Caramel Cappucino Royale Cupcakes These Caramel Cappucino Royale Cupcakes stand tall with a burnt caramel buttercream (keeping reading so what I mean by burnt), balancing that is a chocolate flavored cappuccino cupcake and stuffed inside is a cupcake surprise filled with salted caramel pudding. Butterbeer Cupcakes | Tennessee Sugar. This year for Halloween my oldest daughter decided to be Hermione from Harry Potter. Our long time friends we trick or treat with every year were all characters from Harry Potter as well.
There was a Harry Potter, Draco Malfoy, Ginny Weasly and Hedgwig in addition to my Hermione. When I was trying to decide on what sweet treat to make for our Halloween dinner together I decided this was the perfect time to try out the Butterbeer cupcake recipe I found on the Sweet Tooth blog. Pastry Affair - Home - Butterbeer Cupcakes. This is part IV in a mini-series of Harry Potter snacks from the books brought to life (part I is on Honeydukes treats, part II is all about the cauldron cakes, and part III features every wizard's favorite drink—butterbeer!).
I confess that Butterbeer Cupcakes aren't actually mentioned in the Harry Potter series. In my defense, if JK Rowling had been given one of these while writing the books, she would have found a way to fit them in. They are so exceptional, I wouldn't be surprised if she featured them as a major plot point. Cheeky Kitchen » Mexican Hot Chocolate Cupcakes. I had a love story all thunk up for this post. It had something to do with chocolate. And children. The Pastry Affair - Home - Piña Colada Cupcakes. Today's post is going to be short, but sweet. Since I'm feeling a bit under the weather, I hope these cupcakes will help you to forgive me. Coconut and pineapple have always been on my list of favorite fruits. I used to buy gallons of organic coconut pineapple juice at the store (which I would try not to drink in one sitting). For some reason it never occurred to me to combine this wonderful combination with alcohol. Caramilk® Cream-Vodka Cooler Cupcakes with Caramel Buttercream Icing Recipe.
Posted by Grace Massa Langlois on Monday, 27th September 2010 Have you noticed a theme to my last couple of posts, Chocolate Stout Cake, Baileys® Pots de Crème, and now these amazing Caramilk® Cream-Vodka Cooler Cupcakes? They all have a special ingredient, no 2 special ingredients, alcohol and chocolate! I've gone from Chocolate Beer to creamy liqueur and now to one of the world's most popular liquors, vodka (my favourite) combined with chocolate and caramel in this delicious cooler.
When I was out shopping for Stout Beer I noticed the Caramilk® Cream-Vodka Coolers and I knew they would be amazing in something, but what? With my niece's (Natalie) engagement party coming up I started thinking about all the events leading up to the wedding. Guinness and Bailey's Irish Cream Cupcakes.
---