Drinks
Several people I know are celebrating birthdays in May, and I have already been thinking about what I would be making for each of them.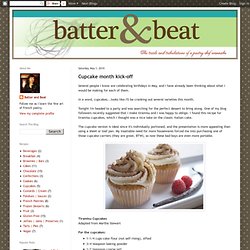 Cupcake month kick-off
Mocha Cupcakes with Espresso Buttercream Frosting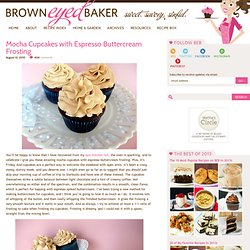 You'll be happy to know that I have recovered from my epic kitchen fail, the oven is sparkling, and to celebrate I give you these amazing mocha cupcakes with espresso buttercream frosting. Plus, it's Friday. And cupcakes are a perfect way to welcome the weekend with open arms.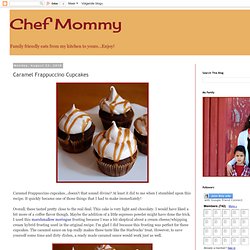 Caramel Frappuccino Cupcakes
Caramel Frappuccino cupcakes...doesn't that sound divine?
Wednesday, July 28, 2010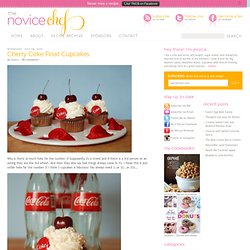 Cherry Coke Float Cupcakes
Pink Lemonade Cupcakes
I've been dreaming up these cupcakes for awhile now, and although I didn't have any specific occasion to bake, I decided to just go ahead and celebrate the warmer weather with cupcakes. Because when life hands you lemons… Bake pink lemonade cupcakes!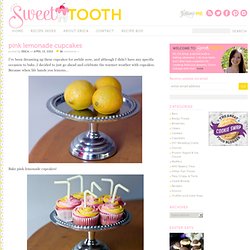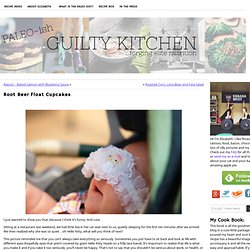 I just wanted to show you that, because I think it's funny.
Root Beer Float Cupcakes Recipe
Dulce De Leche Filled Cupcakes With Dulce De Leche Swiss Meringue Buttercream | Divine Baking
(Whew that is a long title for cupcakes.... )
So perhaps shopping for gifts is now out of the question, what with just a handful of shopping days to go. If that's the case, I strongly suggest that you make these cupcakes, as they surely count as a gift. Egg Nog-Hazelnut Cupcakes with Nutella Buttercream Frosting Ingredients
Poor Girl Gourmet: Egg Nog-Hazelnut Cupcakes with Nutella Buttercream Frosting
Double Chocolate Mocha Crunch Cupcake ~ These are messy.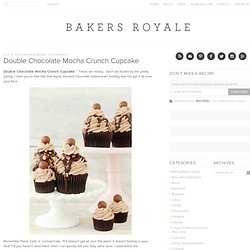 Chocolate Mocha Cupcake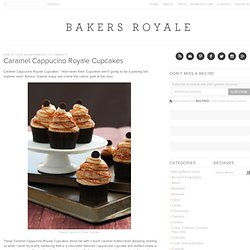 Caramel Cappucino Royale Cupcakes ~ Non-news flash: Cupcakes aren't going to be a passing fad anytime soon.
Caramel Cappucino Royale Cupcakes
This year for Halloween my oldest daughter decided to be Hermione from Harry Potter.
Butterbeer Cupcakes | Tennessee Sugar
This is part IV in a mini-series of Harry Potter snacks from the books brought to life (part I is on Honeydukes treats, part II is all about the cauldron cakes, and part III features every wizard's favorite drink—butterbeer!).
Pastry Affair - Home - Butterbeer Cupcakes
I had a love story all thunk up for this post. It had something to do with chocolate. And children.
Cheeky Kitchen » Mexican Hot Chocolate Cupcakes
The Pastry Affair - Home - Piña Colada Cupcakes
Today's post is going to be short, but sweet.
Caramilk® Cream-Vodka Cooler Cupcakes with Caramel Buttercream Icing Recipe
Posted on Monday, 27th September 2010 by Grace Massa Langlois Have you noticed a theme to my last couple of posts, Chocolate Stout Cake, Baileys® Pots de Crème, and now these amazing Caramilk® Cream-Vodka Cooler Cupcakes?
Guinness and Bailey's Irish Cream Cupcakes