Clothes
Vintage outfits | Fashion Dresess. Downton Abbey Inspired Clothing ♥ I came across an article yesterday claiming that Downton Abbey (my absolute favorite show of the moment and probably of all time) has become so massively popular that Edwardian inspired clothing is coming into fashion.
Now I live in Ontario, Canada and so far I haven't come across any elbow length silk gloves or fur capes at my local shopping malls, and to be honest I really can't imagine myself strutting about with a great furry thing draped over my shoulders. However there have definitely been more than a few drool worthy outfits worn by Lady Mary (my favorite character ♥ ) and I wouldn't mind this modern day version of this gorgeous cream and lace piece (though I actually prefer the original by far); Anyways, here are some pictures of the Downton Abbey/Edwardian inspired modern day outfits; Downton Abbey: Vtg Inspiration. Unexpected Snow Day today!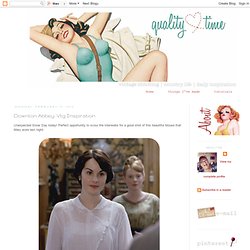 Perfect opportunity to scour the interwebs for a good shot of this beautiful blouse that Mary wore last night: I'm sure she's worn it before, but last night I got a good look at the shaped lace insertion at the shoulder, with teeny tiny tucks. Celebrity Style Black Chiffon Dress, Grecian, Party, Boho, Nobility, Victorian - Dresses. A Tutorial: Fabulous Ric Rac Flowers & Matilda Jane Clothing Rocks - StumbleUpon. Let me start out with a warning or sorry of some sort.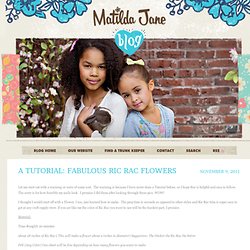 The warning is because I have never done a Tutorial before, so I hope this is helpful and easy to follow. The sorry is for how horrible my nails look. I promise I did them after looking through these pics. A Study in Happiness: SAAS (Sewing at Any Size): Basic Camisole Top. Welcome to my Series on Sewing at Any Size.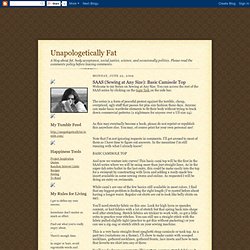 You can access the rest of the SAAS series by clicking on the topic link on the side bar. The series is a form of peaceful protest against the terrible, cheap, overpriced, ugly stuff that passes for plus size fashion these days. Avoid the Homemade Look with the Right Sewing Tools. Getting asked "Did you make that?"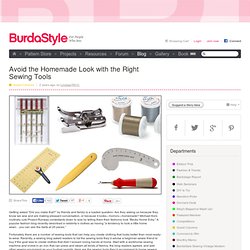 By friends and family is a loaded question: Are they asking us because they know we sew and are making pleasant conversation, or because it looks—horrors—homemade? Michael Kors routinely cuts Project Runway contestants down to size by telling them their fashions look "Becky Home Ecky." How to Make Your Home Sewing Not Look Homemade | Home Sewing. Pressing is different from ironing.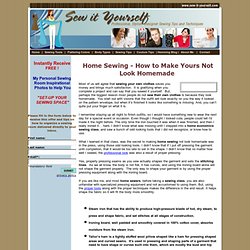 When most of us iron, we use a back and forth motion, moving the iron over the fabric. In pressing, the iron is lowered to the place to be pressed, then raised off the fabric, and moved to the next area. Ironing board covers should be 100% cotton because the all cotton fabric absorbs the moisture so that the fashion fabric will dry quickly. The traditional ironing covers with the reflective surface, actually reflects the steam, and may cause burn damage to some fabrics and slows down the drying process when you're shaping with steam.
1940 Skirted Swim Suit. Make This Look - StumbleUpon. 25 tutorials for Girl Skirts | Sew Easy. If you are looking for sewing inspiration or a tutorial, the internet is hoarded of tutorials.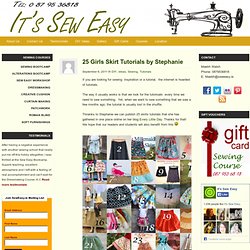 The way it usually works is that we look for the tutorioals every time we need to sew something. Yet, when we want to sew something that we saw a few months ago, the tutorial is usually lost in the shuffle. Thnanks to Stephanie we can publish 25 skirts tutorials that she has gathered in one place online on her blog Every Little Day. Thanks for that! We hope that our readers and students will also benefit from this. DIY Shift Dress. Summer rain. Saturday morning was sunny and blue.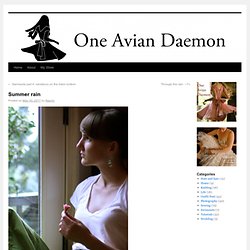 I put on my summer skirt and set to work on the huge pile of unsewn swimsuits on my sewing table. By the time I decided to take a break, it was gray and rainy. No good for going out in, but rather nice light for a few pictures by the kitchen door. If you are considering making a very full pleated skirt like this one, do yourself a favor and hem it on the machine. SewCity.com Free sewing patterns, how to sew, new sewing quilting techniques, sewing machines and sergers - StumbleUpon.
---