Candy
{ Buckeye Cupcakes }
I'm from Ohio. We love all things Buckeye. However, I always wonder about naming things "Buckeye" on my blog because most people outside Ohio say, "Buck...WHAT?". A buckeye is a nut.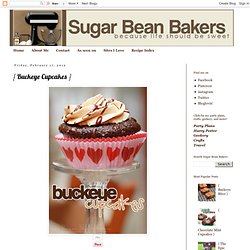 If you've ever been to a carnival, circus, amusement park, fair or any other type of large outdoor event with vendors selling a variety of trinkets, you've most likely had the chance to sample an odd yet delicious candy known as cotton candy. Today is National Cotton Candy Day in celebration of the delicious, sugary treat! Originally called "Fairy Floss", the process of making Cotton Candy was invented by four men: Thomas Patton, Josef Delarose Lascaux, John C.
Delicious cotton candy cake and cupcakes in celebration of National Cotton Candy Day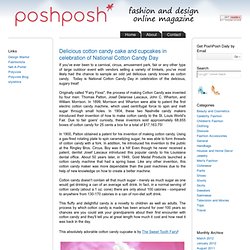 How do you make cotton candy flavored frosting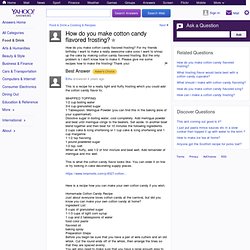 This is a recipe for a really light and fluffy frosting which you could add the cotton candy flavor to; WHIPPED TOPPING 1/2 cup boiling water 3/4 cup granulated sugar 1 Tablespoon. Meringue Powder (you can find this in the baking aisle of your supermarket) Dissolve sugar in boiling water, cool completely. Add meringue powder and beat until meringue clings to the beaters, Set aside. In another bowl blend together and then beat for 10 minutes the following ingredients. 2 cups cake & icing shortening or 1 cup cake & icing shortening and 1 cup margarine 1 1/2 tsp flavoring 1 pound powdered sugar 1/2 tsp. salt When all fluffy, add 1/2 of first mixture and beat well. Add remainder of meringue and mix well.
I think I've made cupcakes every weekend this month. I blame it on Liz. She gets these cupcake cravings, usually when we're out downtown, and she muses about buying one.
CUPCAKES: Awesome coconut ones… « DAILY NIBBLES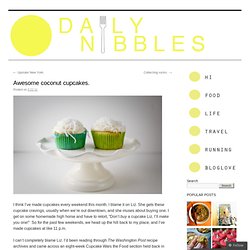 These cupcakes almost don't need words. Just read the name and look at the pictures. You really can't go wrong with chocolate and caramel.
Chocolate Cupcakes with Salted Caramel Buttercream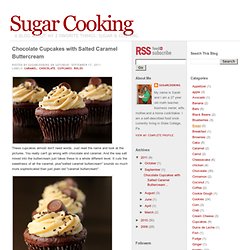 Chocolate Turtle Cupcakes
Chocolate Turtle Cupcakes ~ Holy mother of cupcakes, grab your fork and for the bold and the brave that will skip the fork . . . open wide. This is going to be a session of symphonic sweetness. Chocolate Turtle Cupcake The faint of heart need not apply.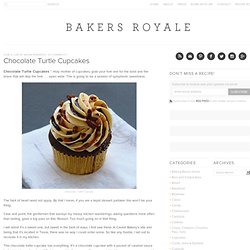 Mint Chocolate Cupcakes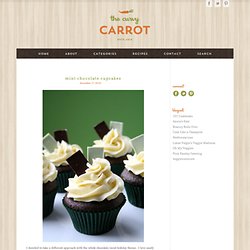 I decided to take a different approach with the whole chocolate/mint holiday theme. I love candy canes (aka peppermint), and I wanted to share a minty recipe for the holidays but minus the candy canes. I don't know.
Milky Way cupcakes are the first cupcakes that I have made which feature two layers of frosting. Like Milky Way bars , Milky Way cupcakes are topped with a layer of luscious, chewy caramel and a layer of creamy milk chocolate. Does double frosting equal double pleasure? You bet!
Milky Way Cupcakes ~ Cupcake Project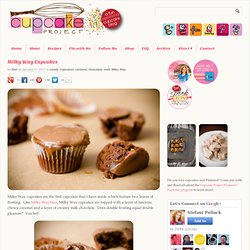 Toffee Crunch Cupcake Toffee Crunch Cupcake with Caramel Frosting ~ Grab your toffee crunch in a cupcake crumb with a little caramel frosting dipped in some chocolate and rimmed with chocolate covered toffee bits. Its decadence meets gluttony-but should a cupcake be anything else but that? Toffee Crunch Cupcakes If you haven't noticed by now, I don't have a subtle hand when it comes to cupcake decorating.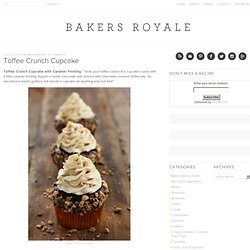 Snickers Cupcakes
Snickers Cupcakes Snickers Cupcakes with a caramel coated Snickers filling, rich caramel frosting, and topped with caramel drizzle and chopped Snickers. These cupcakes are what dreams are made of! I don't usually eat candy bars, but if I do it will always be a Snickers.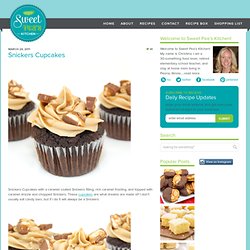 Peanut Butter and Chocolate Cupcake Surprise~ All your favorite flavors come together in one cupcake with a chocolate pour , some sprinkles for happiness, a maraschino cherry for prosperity, Reeses peanut butter cup for a topper and the surprise inside the liner- another hidden Reeses peanut butter cup. Yep, I dropped one of those little cups inside and baked it into the chocolate cupcake batter. Peanut Butter and Chocolate Cupcakes
Peanut Butter and Chocolate Cupcake
I'm guessing you figured that Peanut Butter Love Week wouldn't be complete without at least one cupcake recipe. I've whipped up an insanely rich and delicious cupcake recipe that is bursting with the peanut buttery goodness we all adore. You've heard me reminisce about my father and brother and our mutual love of candy in several posts. Jared and I prefer our candy on the fruity side of the spectrum; Starbursts, Gummi Bears, and Hi-Chews. My dad is definitely more of the chocolate lover with a list of favorites that most certainly contain Reese Peanut Butter Cups, especially of the Easter egg variety.
Peanut Butter Cup Cupcakes
This week is well and truly turning into Cupcake Week here on Simply Delicious. But for some reason I don't think too many people will mind. I think a cupcake is one of those things that most people love (even though I know of a few people who don't). For me, a cupcake (a good one) is just perfection.
Peanut butter-Chip Cupcakes | Simply Delicious