Bars
Peanut Butter Chocolate Candy Bars. 3/4 cups Ritz crackers, crushed 1/2 cup white sugar 1/2 cup packed brown sugar 1/2 cup butter, cubed.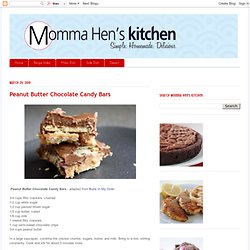 Chocolate Coconut Candy. This is a great summer-y recipe that is fun and easy to make, it is healthy, resembles the bounty candy bar (or mounds bar depending which part of the planet you are living on) and it will also get you singing "coconut woman" !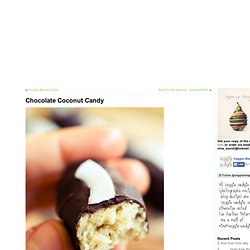 What else could you ask from a candy bar? Makes 25 bars. Easy Homemade Candy Bars. I don't know about you, but I love graham crackers slathered in peanut butter.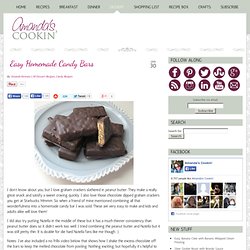 They make a really great snack and satisfy a sweet craving quickly. I also love those chocolate dipped graham crackers you get at Starbucks. Mmmm. So when a friend of mine mentioned combining all that wonderfulness into a homemade candy bar I was sold. These are very easy to make and kids and adults alike will love them! Lavender Honey Caramel Candy Bars. Honey, lavender and caramel flavors gently combine to add a little something extra to this homemade gourmet candy bar.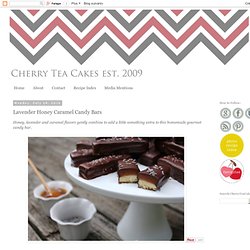 What a night we had making these. It's so tiring to laud one's own genius for that long. [Too true. –B.] Red, White and Blue Raspberry Candy Bars. How cute is that?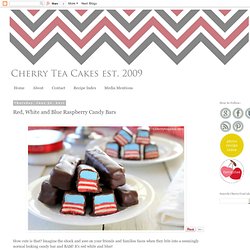 Imagine the shock and awe on your friends and families faces when they bite into a seemingly normal looking candy bar and BAM! It's red white and blue! I confess the red and white stripes won't be the easiest thing you've ever done. I actually rolled my cookie dough through my pasta maker....and cookie dough is just slighly too soft for that to really go perfectly. You might be better off just doing three stripes and hand rolling...it's a toss up. Cherry "Ripe-Off" Candy Bars. Cherry preserves, chopped sour cherries and coconut formed into bars and covered in chocolate: our spin-off of the Australian candy bar Cherry Ripe.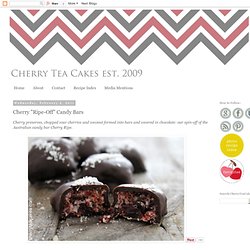 Butchie is back! It's about time. In case you have no clue who Butchie is, or your memory doesn't the span the last, oh, say......two months.....Butchie is one of my best friends....who coincidentally fell off the face of the planet when she got herself a wonderful boyfriend. S'mores Candy Bars. Chocolate again today!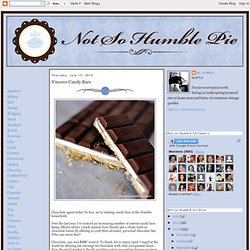 In fact, we're making candy bars at the Humble household. Over the last year I've noticed an increasing number of custom candy bars being offered online. Candy makers have finally put a choke hold on chocolate lovers by offering to craft their ultimate, personal chocolate bar.
---