Asia
Where Else Can You Hold a Baby Panda? - Review of Giant Panda Breeding Research Base (Xiongmao Jidi), Chengdu, China. The Panda base is the one must-see attraction in Chengdu.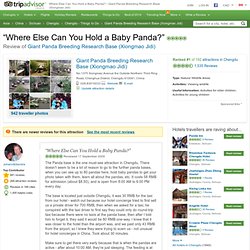 There doesn't seem to be a lot of reason to go to the further panda bases, when you can see up to 80 pandas here, hold baby pandas to get your photo taken with them, learn all about the pandas, etc. It costs 58 RMB for admission (about $8.50), and is open from 8:00 AM to 6:00 PM every day. The base is located just outside Chengdu, it was 30 RMB for the taxi from our hotel - watch out because our hotel concierge tried to first sell us a private driver for 700 RMB, then when we asked for a taxi, he conspired with the taxi driver to first say they could only do round-trip taxi because there were no taxis at the panda base, then after I told him to forget it, they said it would be 80 RMB one-way. Misool Eco Resort - Raja Ampat, Indonesia. Ultra-luxurious Viceroy Bali Resort. Tropical Hideaway Near Bali"s Valley of the Kings: Viceroy Resort. Nestled on a hill near Bali's Valley of the Kings, Viceroy Bali Resort&Spa offers accommodation units that combine comfort and privacy.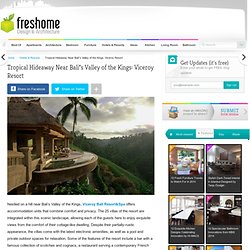 The 25 villas of the resort are integrated within this scenic landscape, allowing each of the guests here to enjoy exquisite views from the comfort of their cottage-like dwelling. Despite their partially-rustic appearance, the villas come with the latest electronic amenities, as well as a pool and private outdoor spaces for relaxation. Accommodations - Soneva Kiri By Six Senses. Upon landing, guests are greeted by their Mr or Ms Friday - who will be on hand during the entire stay – and escorted on the five-minute Aquasense power-boat crossing from the airfield.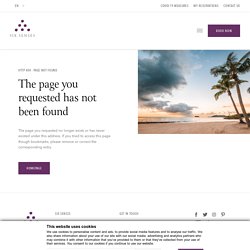 Upon stepping ashore and a warm welcome, a short electric buggy ride arrives at the oversized pool villa, which is a testament to environmental responsiveness and intelligent luxury. The buggy is a private discovery vehicle during the guest's stay. Retreat to the Ayada Maldives. Luxury W Retreat Koh Samui in Thailand. By Eric • Nov 7, 2011 • Selected Work The luxury W Retreat Koh Samui is the first of its kind situated on Ko Samui, one of Thailand's most exquisite isles off the east coast of the Kra Isthmus.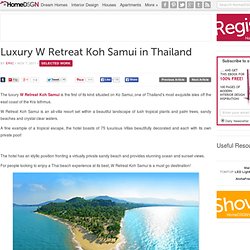 W Retreat Koh Samui is an all-villa resort set within a beautiful landscape of lush tropical plants and palm trees, sandy beaches and crystal clear waters. A fine example of a tropical escape, the hotel boasts of 75 luxurious Villas beautifully decorated and each with its own private pool! Jumeirah Vittaveli Resort in Maldives.
By Eric • Dec 28, 2011 • Selected Work Jumeirah Vittaveli is a brand new Resort developed by Jumeirah Hotels & Resorts that opened earlier this month.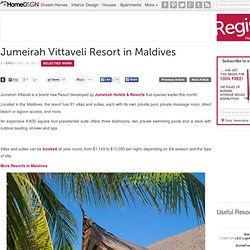 Located in the Maldives, the resort has 91 villas and suites, each with its own private pool, private massage room, direct beach or lagoon access, and more. An expansive 8,600 square foot presidential suite offers three bedrooms, two private swimming pools and a deck with outdoor seating, shower and spa. Villas and suites can be booked all year round, from $1,143 to $10,000 per night, depending on the season and the type of villa. Luxury Villa Amanzi, Thailand by Original Vision Studio | Luxury Furniture, Property, Travel & Interior Design | Adelto.
The Luxury Anantara Veli Resort & Spa, Maldives. The Luxury Anantara Veli Resort & Spa, Maldives Anantara Veli Resort & Spa, Maldives, is a sensual island living over a turquoise lagoon that will put you in a natural mood for romance in one of 50 over water bunglows.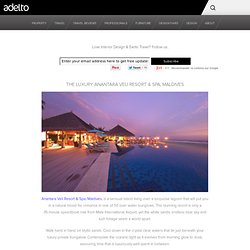 This stunning resort is only a 35-minute speedboat ride from Male International Airport, yet the white sands, endless blue sky and lush foliage seem a world apart. Luxury Anantara Kihavah Villas, Maldives. Luxury Anantara Kihavah Villas Resort, Maldives Luxury Anantara Resorts opened Anantara Kihavah Villas earlier this year in the beautiful Maldives.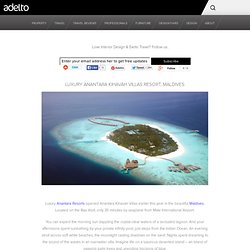 Located on the Baa Atoll, only 35 minutes by seaplane from Male International Airport. You can expect the morning sun dappling the crystal-clear waters of a secluded lagoon. Bali: beyond the usual suspects. Bali may have its fair share of tourists seeking nothing more than seven days of sun, sand and sex in the southern party triad of Kuta, Legian and Seminyak, but this only forms a small part of what's on offer.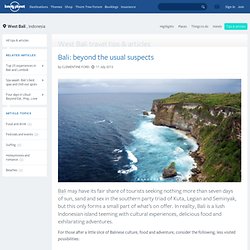 In reality, Bali is a lush Indonesian island teeming with cultural experiences, delicious food and exhilarating adventures. For those after a little slice of Balinese culture, food and adventure, consider the following, less visited possibilities: 1. Chocolate Hills. The Chocolate Hills is a geological formation in Bohol Province, Philippines.[1] There are at least 1,260 hills but there may be as many as 1,776 hills spread over an area of more than 50 square kilometres (20 sq mi).[2] They are covered in green grass that turns brown (like chocolate) during the dry season, hence the name.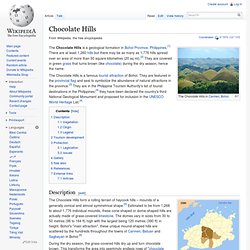 The Chocolate Hills is a famous tourist attraction of Bohol. They are featured in the provincial flag and seal to symbolize the abundance of natural attractions in the province.[3] They are in the Philippine Tourism Authority's list of tourist destinations in the Philippines;[4] they have been declared the country's third National Geological Monument and proposed for inclusion in the UNESCO World Heritage List.[4] Description[edit] Locator map of the Chocolate Hills.
Kyoto Obubu Tea Plantations. Vat Phou. History[edit] The mountain has a natural linga on its peak.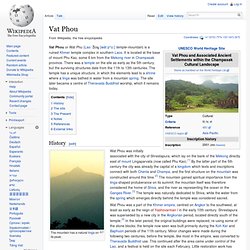 Wat Phou was a part of the Khmer empire, centred on Angkor to the southwest, at least as early as the reign of Yashovarman I in the early 10th century. Shrestapura was superseded by a new city in the Angkorian period, located directly south of the temple.[4] In the later period, the original buildings were replaced, re-using some of the stone blocks; the temple now seen was built primarily during the Koh Ker and Baphuon periods of the 11th century.
Four Seasons Resort Bora Bora - A Luxury Hotel in Bora Bora, French Polynesia.
Russia
---