Information Security
CPE and Training. Webinars by Randy. Member Login. Tools. CVE. Basic Edition. NetScanTools® Basic Edition was introduced in 2009 as a freeware set of basic network tools designed to fill the gap left by the retirement of NetScanTools Standard.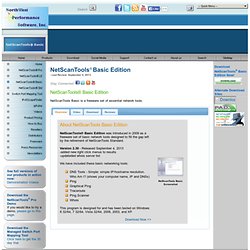 Version 2.30 - Released September 4, 2013 -added new right click menus to results -updateded whois server list We have included these basic networking tools: DNS Tools - Simple: simple IP/hostname resolution, Who Am I? (shows your computer name, IP and DNSs) Ping Graphical Ping Traceroute Ping Scanner Whois This program is designed for and has been tested on Windows 8 32/64, 7 32/64, Vista 32/64, 2008, 2003, and XP. Download Now >> Backtrack 4 – USB/Persistent Changes/Nessus. This how-to will be updated with specifics for Backtrack 5.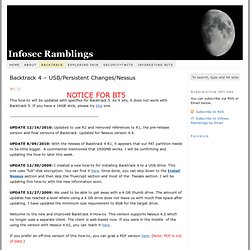 As it sits, it does not work with Backtrack 5. If you have a 16GB stick, please try this one.
---