Timing
Twitter
Top 5 Tools to Better Time Your Tweets. Leo Widrich is the co-founder of Buffer, a smarter way to publish tweets and Facebook posts.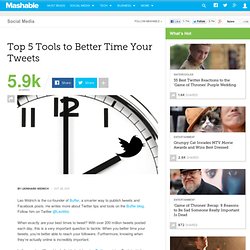 He writes more about Twitter tips and tools on the Buffer blog. Follow him on Twitter @LeoWid. When exactly are your best times to tweet? With over 200 million tweets posted each day, this is a very important question to tackle.
Facebook
How to Time Your Facebook Posts to Reach the Most Fans. Jeff Widman co-founded PageLever to provide better Facebook analytics for marketers.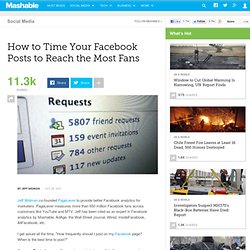 PageLever measures more than 650 million Facebook fans across customers like YouTube and MTV. Jeff has been cited as an expert in Facebook analytics by Mashable, AdAge, the Wall Street Journal, Wired, InsideFacebook, AllFacebook, etc. I get asked all the time, "How frequently should I post on my Facebook page? When is the best time to post? " B2C Facebook Results Are 30% Above Average on Sundays | Social Media Research.
---