Geekeries
Interactive Game of Thrones Map with Spoilers Control. Les 15 faits à connaitre au sujet de nos rêves. Rêver est l'expérience la plus mystérieuse qu'il soit, on essaye de les interpréter depuis la Rome Antique pour tout vous dire, mais que savons-nous exactement sur les rêves ?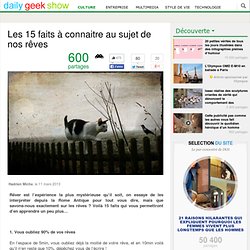 Voilà 15 faits qui vous permettront d'en apprendre un peu plus… 1. Vous oubliez 90% de vos rêves En l'espace de 5min, vous oubliez déjà la moitié de votre rêve, et en 10min voilà qu'il n'en reste que 10%, dépêchez vous de l'écrire !
Internet stuff. Hardware. Microsoft. Twitter. Google. Comprendre et configurer le BIOS de votre ordinateur. Are you a true Early Adopter? Geeky sexy pics.
---