Mumble 28/01/12
roadtoMay2012
Acta / Minutes
Moved Temporarily
Agenda of the content meeting for #12M12 and #15M12
doodle - Mumble global meetings
calendar_details
12M12contacts
Brainstorming / Lluvia de ideas
Nohuelgageneralrazones
Occupy Educated
Global Spring : OccuponsMontreal
15o - Occupy Slovenia - 15o.si - Ne spreglej!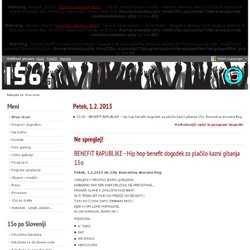 Poziv na vstajo proti kapitalizmu, državi in elitam Kongresni trg pri sidru, 9. marec, 15:00. Vstaja je od vsakogar in od vseh! Naša vstaja je bila do zdaj močna, ker je bila mnogotera v svojih krikih, narečjih, metodah in zahtevah, v katerih sporočamo, da imamo dovolj. Dovolj smo imeli Janše, dovolj imamo Bratuškove.
#OccupyChicago - Adbusters - May2012 Hey you redeemers, rebels and radicals out there, Against the backdrop of a global uprising that is simmering in dozens of countries and thousands of cities and towns, the G8 and NATO will hold a rare simultaneous summit in Chicago this May. The world's military and political elites, heads of state, 7,500 officials from 80 nations, and more than 2,500 journalists will be there.
Translator Brigades