Mumble 28/01/12
roadtoMay2012
Acta / Minutes
To enable screen reader support, press CTRL + ALT + Z. To learn about keyboard shortcuts, press CTRL + FORWARD SLASH. Audio file (who can do it ?) : Martin for contributing with the translation today and also the other They need help in translating these kind of global calls (in written and
Moved Temporarily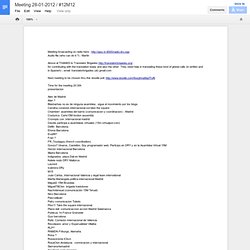 Agenda of the content meeting for #12M12 and #15M12
calendar_details
Brainstorming / Lluvia de ideas
Nohuelgageneralrazones
Le Printemps Global 2011 fut une année intéressante. Les gens se sont mobilisés dans le monde arabe, ensuite en Europe, ensuite en Inde, ensuite dans les Amériques, ensuite en Russie. 2012 sera une année encore plus intéressant, parce que ces mobilisations mêmes vont se produire tout à la meme fois.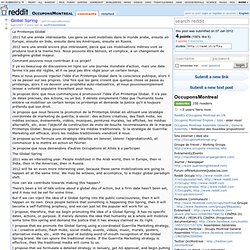 Global Spring : OccuponsMontreal
#OccupyChicago - Adbusters - May2012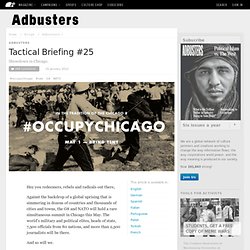 Hey you redeemers, rebels and radicals out there, Against the backdrop of a global uprising that is simmering in dozens of countries and thousands of cities and towns, the G8 and NATO will hold a rare simultaneous summit in Chicago this May. The world's military and political elites, heads of state, 7,500 officials from 80 nations, and more than 2,500 journalists will be there. And so will we. On May 1, 50,000 people from all over the world will flock to Chicago, set up tents, kitchens, peaceful barricades and #OCCUPYCHICAGO for a month.
Translator Brigades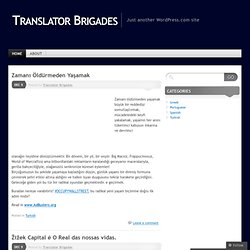 Quando estávamos combatendo a epidemia de Aids, a fome, a escassez de água, o aquecimento global e assim por diante, sempre parecia haver tempo para refletir, para adiar decisões (lembrem que a principal conclusão da última reunião de líderes mundiais em Bali, considerada um sucesso, foi que eles se encontrariam novamente em dois anos para continuar as negociações…). Mas com o colapso financeiro, a urgência era incondicional. Somas de uma magnitude inimaginável deveriam estar disponíveis imediatamente. Salvar espécies ameaçadas de extinção, salvar o planeta do aquecimento global, salvar pacientes de Aids e aqueles que morrem por falta de fundos para tratamentos caros, salvar as crianças famintas… Continue in www.AdBusters.org