Learning with Interactive Whiteboards
The Art of Planning Deeper Learning | Totally Learned As. 6 Tools for Teachers | Bill Gates. Video. This video shows you how to customize the SMART Board Tools' Floating Toolbar by adding and removing helpful items to it.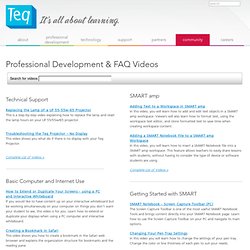 This video will show you how to take your SMART Notebook product key and activate the software. Product Keys are necessary for converting a "30-day Trial" of the software into the permanent version. This video shows how you would import a PDF document into SMART Notebook using the SMART Notebook Document Writer. In this video you will learn how to take images and save them to the My Content folder of SMART Notebook to easily access them in the future. We will show you how to locate a picture on the internet, and input it into your SMART Notebook file. Blog | Blogging About SMART Boards, Resources, Lessons, Training, Games. This is where our team shares their ideas and experiences with educators from around the world.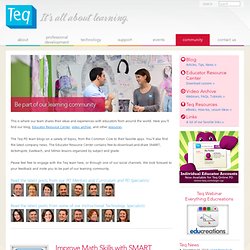 Here you'll find our blog, Educator Resource Center, video archive, and other resources. The Teq PD team blogs on a variety of topics, from the Common Core to their favorite apps. You'll also find the latest company news. The Whiteboard Blog | Supporting the use of technology in the classroom. IWB Scratch Project.
---