Learning with Interactive Whiteboards
The Art of Planning Deeper Learning | Totally Learned As. 6 Tools for Teachers | Bill Gates. Video. In this video, you will learn how to add and edit text objects in a SMART amp workspace.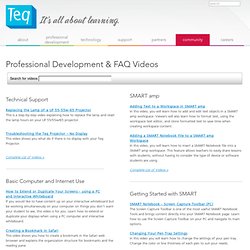 Viewers will also learn how to format text, using the workspace text editor, and clone formatted text to save time when creating workspace content. In this video, you will learn how to insert a SMART Notebook file into a SMART amp workspace. This feature allows teachers to easily share lessons with students, without having to consider the type of device or software students are using. The Screen Capture Toolbar is one of the most useful SMART Notebook Tools and brings content directly into your SMART Notebook page. Learn how to use the Screen Capture Toolbar on your PC and navigate its main options. Blog | Blogging About SMART Boards, Resources, Lessons, Training, Games.
This is where our team shares their ideas and experiences with educators from around the world.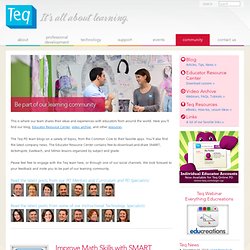 Here you'll find our blog, Educator Resource Center, video archive, and other resources. The Teq PD team blogs on a variety of topics, from the Common Core to their favorite apps. You'll also find the latest company news. The Whiteboard Blog | Supporting the use of technology in the classroom. IWB Scratch Project.
---