Jewelry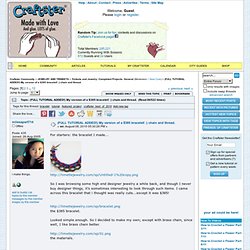 (FULL TUTORIAL ADDED!) My version of a $385 bracelet! :) chain and thread. - JEWELRY AND TRINKETS
For starters: the bracelet I made... http://limettejewelry.com/sp/Untitled-1%20copy.png So I was browsing some high end designer jewelry a while back, and though I never buy designer things, it's sometimes interesting to look through such items. I came across this bracelet that i thought was really cute...except it was $385! http://limettejewelry.com/sp/bracelet.pngthe $385 bracelet.
bird and berries beach pebble necklace by birdahoy on Etsy
When M. came home from her camp with school, she showed me this yellow bracelet she made with 'scoubidoo' strings. One of her friends taught her how to make these and of course I wanted to have a go at it too. Instead of scoubidou string I used strips of fabric for one and leather - what did you think?!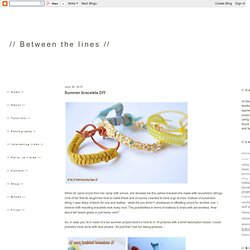 Did you know Mother's Day is about a week and half away?? Eek!! I don't know about you but I'm scrambling a bit here. ;) So I thought I'd help you out. Actually, Melissa and I are helping you out. :) Melissa sent in a Tutorial Request for a darling Boden Necklace – and I knew that it would be perfect for a Mother's Day idea. Or a "I'm going to make that myself for Mother's Day" idea. ;)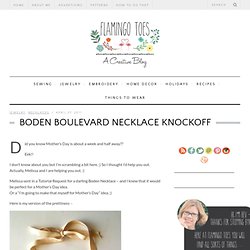 Happy Monday everyone! Today I am going to show you how to make this necklace and introduce my first giveaway! Below are the steps to make this tulle necklace.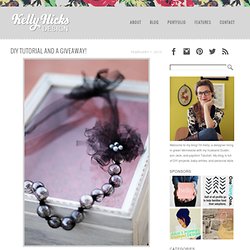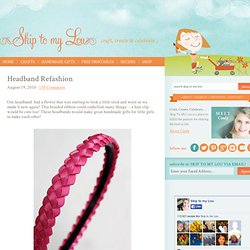 Our headband had a flower that was starting to look a little tired and worn so we made it new again! This braided ribbon could embellish many things— a hair clip would be cute too! These headbands would make great handmade gifts for little girls to make each other! Woven Ribbon Headband Gather a headband and about 4 1/2 yards of ribbon. You can use any with — I chose 1/4 inch.
Hydro Bracelets | Homemade Bracelet Crafts
I am excited to be offering 30 days of fun crafts to keep kids active and entertained this summer! You won't want to miss a day of these fun crafts for kids from some amazing bloggers! Please be sure to pay them a visit! Hi I am Beckie from Infarrantly Creative and Knock Off Décor and I am back here on STML showing you how to make woven friendship bracelets As I was thinking about what project to do for this series I tried to remember what my most favorite craft was when I was a girl. It was by far bracelet making! I have noticed they are making their way back on children's wrists lately.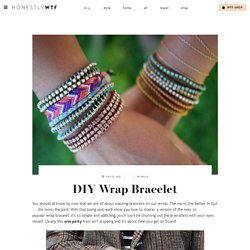 You should all know by now that we are all about stacking bracelets on our wrists. The more, the better. In fact . . . the most, the best! With that being said, we'll show you how to master a version of the ever so popular wrap bracelet. It's so simple and addicting, you'll soon be churning out these wristlets with your eyes closed.
Hi lovelies!
Watercolor Petal Necklace <3 - JEWELRY AND TRINKETS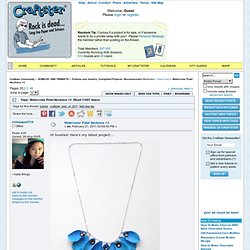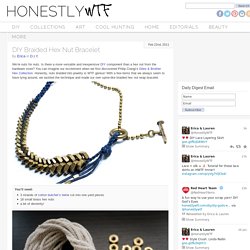 We're nuts for nuts. Is there a more versatile and inexpensive DIY component than a hex nut from the hardware store? You can imagine our excitement when we first discovered Philip Crangi's Giles & Brother Hex Collection. Honestly, nuts braided into jewelry is WTF genius!
Sponsored Content - Craft Book Excerpt The following is an excerpt from the new craft book...
Bubble Wrap Necklace - Step by Step Tutorial - JEWELRY AND TRINKETS
In this Instructable, I'm going to teach you how to make Finger Loop Braids. With this technique you can make braids with just your hands that have 10 or more strands each. They can be used for anything. Bracelets, chokers, belts, hat bands, as trim on clothing, or furniture... If you need a strong lacing, a finger loop braid will multiply the strength of your string/rope by 10.
Here it is - the handmade gift personalized by you for the special guy in your life! Of course, this would make a great women's necklace as well, but you know how hard those guys are to shop for! This is another fabulous Tutorial Exchange project with a glass vial provided by the sweetest Angie of Supply Pusher! Original tutorial and many more at Shrimp Salad Circus. Step 1: Materials glass vial with top (provided by Supply Pusher) brass disc with hole two jump rings key ring 2 slips of paper cut to the height of the vial black permanent marker nice pen metal letter stamps (provided by Evie's Tool Emporium) steel bench block hammer E-6000 adhesive steel wool or fine-grit sandpaper
I love you because... Message in a Bottle Key Ring
Washer Necklace
HOW TO DO OFF LOOM FLAT BEAD WEAVING
Rock&Gem Online: How to Wirewrap
How to WirewrapA Faceted Pendant That Does Away With ClawsDesigned by Mavis Llewellyn, as Featured in Wired Have you ever wished for a more attractive way to mount a stone in a pendant than the old-fashioned use of "claws"? Mavis Llewellyn used wire wrapping in the project presented here, for that very reason.
A quick fix leather bracelet
I mentioned it yesterday, that I actually had time for two crafts while the girls were playing. So, here's number two - a quick fix leather bracelet. And while I was at it I wrote down some instructions for this quick fix.
Etching Brass and Copper
Super easy oriental bangle EDIT: step by step pics! - JEWELRY AND TRINKETS