Stabalizing Southern Sudan
Despite aid effort, Sudan famine squeezing life from dozens daily. AJIEP, Southern Sudan (CNN) -- This is the destination for thousands of starving Sudanese who journey from areas throughout famine-stricken Bahr al-Ghazal in search of food.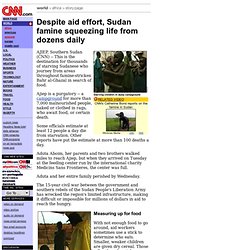 Ajiep is a purgatory -- a campground for more than 7,000 malnourished people, naked or clothed in rags, who await food, or certain death. Some officials estimate at least 12 people a day die from starvation. Other reports have put the estimate at more than 100 deaths a day. Aduta Aboim, her parents and two brothers walked miles to reach Ajiep, but when they arrived on Tuesday at the feeding center run by the international charity Medicins Sans Frontieres, the center was full. Aduta and her entire family perished by Wednesday. Sudan - HEALTH. Sudan Table of Contents The high incidence of debilitating and sometimes fatal diseases that persisted in the 1980s and had increased dramatically by 1991 reflected difficult ecological conditions and inadequate diets.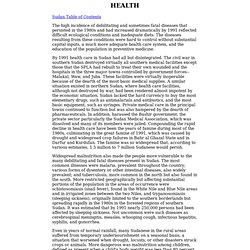 The diseases resulting from these conditions were hard to control without substantial capital inputs, a much more adequate health care system, and the education of the population in preventive medicine. By 1991 health care in Sudan had all but disintegrated. The civil war in southern Sudan destroyed virtually all southern medical facilities except those that the SPLA had rebuilt to treat their own wounded and the hospitals in the three major towns controlled by government forces--Malakal, Waw, and Juba. Humanitarian Relief and Development for Children.
EMERGENCY ALERT: Save the Children is deeply concerned about the situation in South Sudan, where approximately 500,000 have been affected by escalating violence.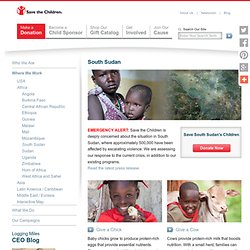 We are assessing our response to the current crisis, in addition to our existing programs. Read the latest press release Give a Chick Baby chicks grow to produce protein-rich eggs that provide essential nutrients. Sudan - Children and Armed Conflict. The information below is based on the 2011 report of the Secretary-General to the Security Council (A/65/820-S/2011/250) issued on 23 April 2011.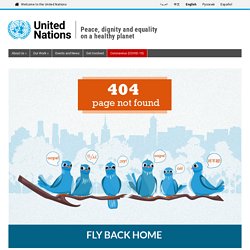 More information is available in the report. The number of documented cases of child recruitment and use in 2010 decreased compared to 2009; however, the collection of accurate data continued to be seriously hampered by insecurity and fear of reprisals, lack of access to non government controlled areas, and movement restrictions imposed by the Government. In addition, difficulty in recording new splinter groups, unclear lines of command, extremely mobile groups, renewed clashes between Government forces and armed groups, especially in the last quarter of 2010, also contributed to underreporting.
Clean Water Project - Horse Tamer Ministry.org. In mid September 2009 a good friend, Anthony Gonsalez, left on a missionary trip to help 200 orphans in Sudan.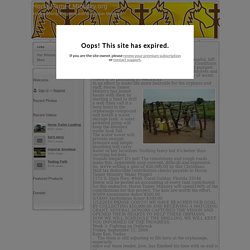 Conditions there are very rustic. The orphanage shares a hand pumped well with the community . UNICEF Home.
---