Linux
One thing that keeps Linux in the back foot is the lack of good quality applications that can compete with the best out there. The advent of paid softwares section in Ubuntu Software Center is a start, things like that can kick start application development for Linux in a big way. But things were not as bad I thought it would be. On further browsing, I found out that there are indeed a good number of paid applications for Linux, some of them were a total surprise for me. Here are some of those paid applications for Linux which I found interesting. Guitar Pro is a multitrack editor of guitar and bass tablature and musical scores meant for guitarists and musicians.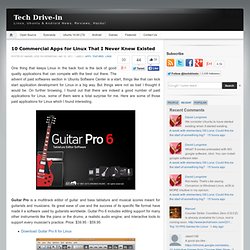 10 Commercial Apps for Linux That I Never Knew Existed
You should know by now that, we have a soft corner for simple, lightweight and addictive puzzle games for Linux. Puzzle Moppet is another game in that genre. Puzzle Moppet is a serenely peaceful yet devilishly challenging 3D puzzle game. There is a demo version of the game available for free download as well. Price: $14.95 Family Farm is an innovative tycoon game in the setting of 19th century farmsteads.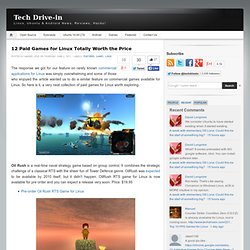 12 Paid Games for Linux Totally Worth the Price
Top 10 FPS Games for Linux
As part of our effort in giving Linux games category its due share, here is our second post featuring some really good games for Linux. If it was about top RTS games for Linux before, now its time for some fast paced first-person shooter(FPS) games for Linux. Quick collection of 10 FPS games for Linux((in no particular order) every Linux gamer should be aware of. OpenArena is an open-source, community-produced, deathmatch first person shooter(FPS) game licensed under the GPL. There are many game types supported including Free For All, Capture The Flag, Domination, Overload, Harvester among others.