Web Design
Table of Contents - Dive Into HTML5
Video for Everybody is simply a chunk of HTML code that embeds a video into a website using the HTML5 <video> element, falling back to Flash automatically without the use of JavaScript or browser-sniffing. It therefore works in RSS readers (no JavaScript), on the iPhone / iPad (don't support Flash) and on many browsers and platforms. Thanks to the rapid adoption of HTML5 video happening right now, Video for Everybody isn't the only solution around. It is not a neatly packaged, fully-featured solution for those unfamiliar with HTML. VfE is for developers who either want something really simple they can quickly use on their blog or websites, or as a good starting point to develop their own custom solution.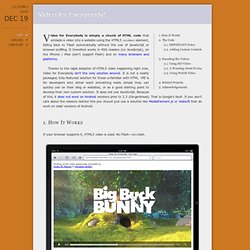 web-dev · Video for Everybody!
plugin support - Autoplay youtube video?
Adobe Creative Suite 5 training at lynda.com
Stéphane Caron – No Margin For Errors
Latests Plugins INK is a new way to own your content. It's a well known fact, the content you produce can be shared all around the web and in a very large number of ways. One of the most common ways is to simply copy the content and paste it wherever we want it to be shared. […] Read more »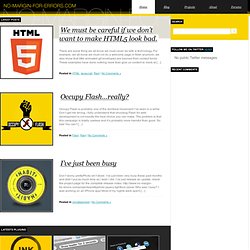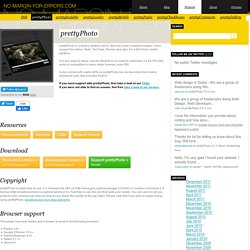 jQuery lightbox for images, videos, YouTube, iframes | Stéphane
To open inline content, simply: Create a link (<a href="#">). Add the rel attribute "prettyPhoto" to it (rel="prettyPhoto"). Change the href of your link so it is the ID of the inline content you want to open with the ID CSS selector (#). This is inline content opened in prettyPhoto.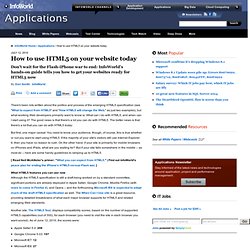 July 12, 2010 There's been lots written about the politics and process of the emerging HTML5 specification (see "What to expect from HTML5" and "How HTML5 will change the Web," as just two examples), but what working Web developers primarily want to know is: What can I do with HTML5, and when can I start using it? The good news is that there's a lot you can do with HTML5. The better news is that there's a lot that you can do with HTML5 today.
How to use HTML5 on your website today | Applications
Hunter S. Thompson, another satisfied customer
Timothy McSweeney's Internet Tendency: I'm Comic Sans, Asshole.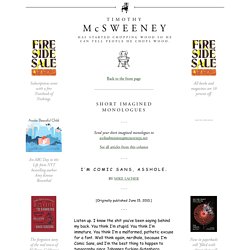 Listen up. I know the shit you've been saying behind my back. You think I'm stupid. You think I'm immature. You think I'm a malformed, pathetic excuse for a font.