Bikes
Stalk Bamboo Bicycles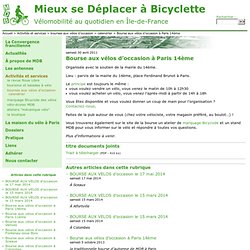 Bourse aux vélos à Paris 14ème - Mieux se Déplacer à Bicyclette
Organisée avec le soutien de la mairie du 14ème. Lieu : parvis de la mairie du 14ème, place Ferdinand Brunot à Paris. Le principe est toujours le même :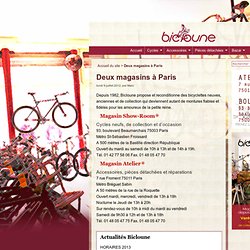 Deux magasins à Paris - Bicloune
Depuis 1982, Bicloune propose et reconditionne des bicyclettes neuves, anciennes et de collection qui deviennent autant de montures fiables et fidèles pour les amoureux de la petite reine. Magasin Show-Room Cycles neufs, de collection et d'occasion 93, boulevard Beaumarchais 75003 Paris Métro St-Sébastien Froissard A 500 mètres de la Bastille direction République
18 Velo Vintage | Vélo, Velo occasion paris, Bicycle Store , Used Bikes, Vintage, Vélo occasion, Paris France, Montmartre
PISTAR, le vélo à pignon fixe » Bienvenue chez p.i.s.t.a.r.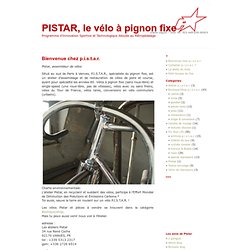 Pistar, assembleur de vélos Situé au sud de Paris à Vanves, P.I.S.T.A.R., spécialiste du pignon fixe, est un atelier d'assemblage et de restauration de vélos de piste et course, ayant pour spécialité les années 80. Vélos à pignon fixe (sans roue-libre) et single-speed (une roue-libre, pas de vitesses), vélos avec ou sans freins, vélos du Tour de France, vélos rares, conversions en vélo commuters (urbains). Charte environnementale:L'atelier Pistar, en recyclant et suédant des vélos, participe à l'Effort Mondial de Diminution des Pollutions et Emissions Carbone.* Toi aussi, sauve la terre en roulant sur un vélo P.I.S.T.A.R. ! Les vélos Pistar et pièces à vendre se trouvent dans la catégorie Boutique/shop. Mais tu peux aussi venir nous voir à l'Atelier.
Schindelhauer Bikes > Models > Viktor
Schindelhauer Bikes stehen für zuverlässige, urbane Sportlichkeit und stilvolle Eleganz. Gemäß dem Leitbild "Pure Lust am Radfahren" sind die Bikes für den harten Alltagseinsatz konzipiert, bestechen durch ihr fahrradtechnologisches Know-how und verkörpern jenen puristischen Style, der die Räder zu weit mehr als nur einem Fortbewegungsmittel macht. Der Verzicht auf alles Überflüssige gibt den Schindelhauer-Bikes ihren unver-wechselbaren Charakter, der sich bis ins kleinste Detail durch alle Modelle zieht. Dank des langlebigen Gates Carbon Drive™ Zahnriemens überzeugen alle Schindelhauer-Bikes durch War-tungsfreiheit, Langlebigkeit und Zuverlässigkeit. Damit läutet der Antrieb eine neue Ära in der urbanen Fahrradwelt ein und verleiht den zeitlosen, minimalistischen Schindelhauer-Bikes das i–Tüpfelchen. Schindelhauer Bikes represent urbane sportiveness and timeless elegance you can fully trust in.
Home | Dario Pegoretti
LUNAR CYCLES ::: BESPOKE BICYCLE MAKERS | ANTI GRAVITY TECHNOLOGY | THE ENGINEERING OF ART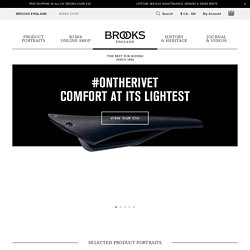 JB Brooks & Co. became known and respected for its beautiful leather handcrafted saddles, and soon started to make cycle and motorcycle bags and other accessories. Traditional techniques in manufacturing leather saddles were passed down from generation to generation of craftsmen as the company grew under the guidance of the Brooks family until 1958. In 1962 Brooks became part of Raleigh and moved to the current works in Smethwick in the West Midlands, just a few miles away from the original premises. In the last decade, we have struck out on our own again as Brooks England, following a new course that honours the company's heritage. Inspired by the timeless products designed by our predecessors, we have revived the original slogan 'Saddles, Bags, Etc' and introduced a range of cycle bags and other cycling accessories.
The Brooks England Blog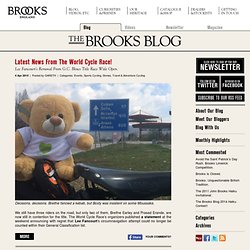 Lee Fancourt's Removal From G.C. Blows Title Race Wide Open. Decisions, decisions. Breifne fancied a kebab, but Boxty was insistent on some Moussaka.
Pharrell Williams x BKRW x Domeau & Pérès x Colette | ViaComIT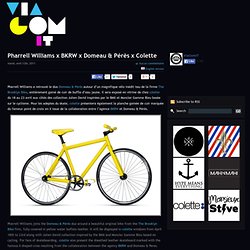 English version Pharrell Williams a retrouvé le duo Domeau & Pérès autour d'un magnifique vélo inédit issu de la firme The Brooklyn Bike, entièrement gainé de cuir de buffle d'eau jaune. Il sera exposé en vitrine de chez colette du 18 au 23 avril aux côtés des collection Julien David inspirées par le BMX et Moncler Gamme Bleu basée sur le cyclisme.