Quilting
Quilts
Stitched in Color
Handloom Batik - Exotic, beautiful fabric, Indian block prints, Ikot, cottons, hand dyed using vegetable dyes, fashionable shirts, scarves, shawls, rugs, bedspreads, cards, stationary, journals, home furnishings
Dresden Plate Tutorial - Beginner Block Quilting Series
The Flying Needle Fabrics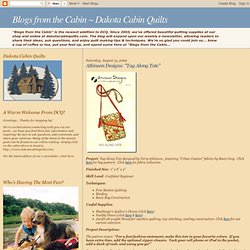 Project : Tag Along Tote designed by Terry Atkinson, featuring "Urban Couture" fabrics by Basic Grey.
Atkinson Designs: "Tag Along Tote"
Amish Quilts -- A Thing Of Beauty in the Pennsylvania Dutch Country
Quilt History - A short introduction to period quilting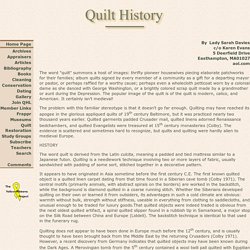 By Lady Sarah Davies c/o Karen Evans 5 Deerfield Drive Easthampton, MA01027 aol.com The word "quilt" summons a host of images: thrifty pioneer housewives piecing elaborate patchworks for their families; album quilts signed by every member of a community as a gift for a departing mayor or pastor, or perhaps raffled for a worthy cause; perhaps even a wholecloth petticoat worn by a colonial dame as she danced with George Washington, or a brightly colored scrap quilt made by a grandmother or aunt during the Depression. The popular image of the quilt is of the quilt is modern, calico, and American.
We get you sewing at PatternSpot.com - Sewing, Quilting, Garment Patterns, Projects, Ideas, Tutorials, Videos
QuiltFabricCloseouts.com
Exclusive Quilting Fabric, Quilting Thread, Quilting Kits, Patterns & Quilt Supplies
BasketcasesUnlimited
The Rabbit's Lair
Welcome | The Quilted B.
Hancock's of Paducah - The world's foremost supplier of fine fabrics and notions.
Quilt fabric, fashion fabrics for the discriminating artist from eQuilter.com!
Quilt With Us