Quilting
Quilts
"Somewhere ages and ages hence: Two roads diverged in the wood, and I - I took the one less traveled by. And that has made all the difference.
Stitched in Color
Handloom Batik - Exotic, beautiful fabric, Indian block prints, Ikot, cottons, hand dyed using vegetable dyes, fashionable shirts, scarves, shawls, rugs, bedspreads, cards, stationary, journals, home furnishings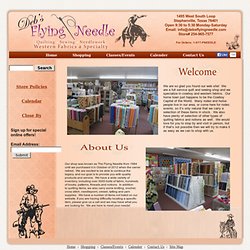 The Flying Needle Fabrics
Our shop was known as The Flying Needle from 1984 until we purchased it in October of 2012 when the owner retired. We are excited to be able to continue the legacy, and our goal is to provide you with quality products and service. We have a wide variety of inventory, including over 3000 bolts of fabric, hundreds of books, patterns, threads and notions.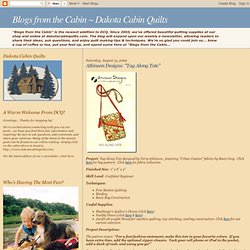 Project: Tag Along Tote designed by Terry Atkinson, featuring "Urban Couture" fabrics by Basic Grey. Click here for bag pattern. Click here for fabric collection. Finished Size: 7" x 8" x 2" Skill Level: Confident Beginner
Atkinson Designs: "Tag Along Tote"
Baby rickrack adds playfulness and dimension to this cute,... Setting a stylish table is easy with this colorful runner. Rows... Easy-to-create, machine-couched springtime tulips dance atop... A long-time decorating favorite, the paisley pattern is back...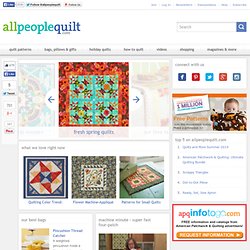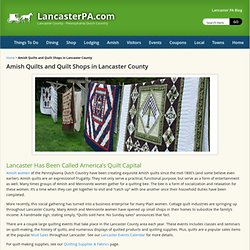 Amish women of the Pennsylvania Dutch Country have been creating exquisite Amish quilts since the mid-1800′s (and some believe even earlier). Amish quilts are an expressionof frugality. They not only serve a practical, functional purpose, but serve as a form of entertainment as well. Many times groups of Amish and Mennonite women gather for a quilting bee. The bee is a form of socialization and relaxation for these women. It's a time when they can get together to visit and "catch up" with one another once their household duties have been completed.
Amish Quilts -- A Thing Of Beauty in the Pennsylvania Dutch Country
Quilt History - A short introduction to period quilting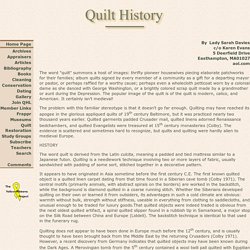 By Lady Sarah Davies c/o Karen Evans 5 Deerfield Drive Easthampton, MA01027 aol.com The word "quilt" summons a host of images: thrifty pioneer housewives piecing elaborate patchworks for their families; album quilts signed by every member of a community as a gift for a departing mayor or pastor, or perhaps raffled for a worthy cause; perhaps even a wholecloth petticoat worn by a colonial dame as she danced with George Washington, or a brightly colored scrap quilt made by a grandmother or aunt during the Depression. The popular image of the quilt is of the quilt is modern, calico, and American.
We get you sewing at PatternSpot.com - Sewing, Quilting, Garment Patterns, Projects, Ideas, Tutorials, Videos
Guaranteed Fabric Savings Every Day! Welcome to Our Website We're so glad you've stopped by for a visit. Please enjoy browsing our shop and we hope you'll find what you're looking for. Our mission is simple...to offer affordable choices on the highest quality goods in the fabric and quilting industry. All of our products are first quality goods, and we pride ourselves on providing a top-notch shopping experience for our customers.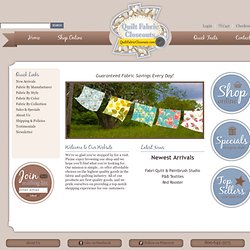 QuiltFabricCloseouts.com
Basketcases Unlimited Preserving and nurturing the spirit of American craftwork with classes in pioneer traditions since 1995. General Information: Basketcases Unlimited is a small retail quilt shop located in a barn in rural DeKalb County. Basketcases began in 1995 and is DeKalb County's oldest and only quilt shop. We offer fabric, patterns, books, notion, tatting supplies, basket supplies and some specialty gift items. We also have classes in sewing, quilting, hand embroidery, tatting, wool appliqué, hand appliqué, and baskets. We also have 2 Gammill Longarm quilting machines and offer machine quilting services to finish your quilt tops.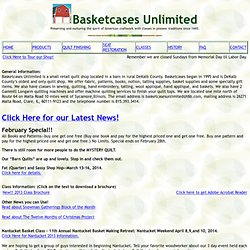 BasketcasesUnlimited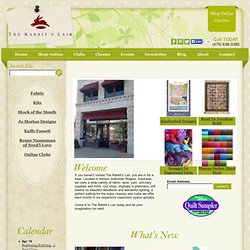 The Rabbit's Lair
If you haven't visited The Rabbit's Lair, you are in for a treat. Located in historic downtown Rogers, Arkansas, we carry a wide variety of fabric, wool, yarn, stitchery supplies and more. Our shop, originally a pharmacy, still retains its beautiful woodwork and wonderful lighting, a perfect setting for the many classes and clubs we offer each month in our expansive classroom space upstairs.
Since 1978 with the publication of my first quilt book Make a Quilt in a Day Log Cabin Pattern, I have written over 100 quilt books and quilt patterns. My quilt books & patterns teach a wide variety of quilt techniques: strip piecing, applique, scrap quilting, crazy quilts, paper piecing, piecing stars, triangles, and squares. You will find numerous quilt border treatments, methods to bind a quilt, tie a quilt, layer a quilt, miter a binding corner, and so much more.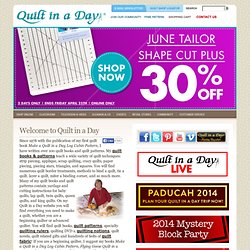 (Moda - Lakehouse - Lecien - Riley Blake - Red Rooster- Henry Glass, and more....) With springtime comes new beginnings and some changes for The Quilted B. My dream when I opened the Quilted B was to have an actual store front, not just an online shoppe. Due to several factors and the current economy, I have not been able to achieve my real dream of a shoppe; meeting and greeting fellow quilters each day. With lots of thought and a few tears, I've decided to close The Quilted B.
Welcome | The Quilted B.
Hancock's of Paducah - The world's foremost supplier of fine fabrics and notions.
Quilt fabric, fashion fabrics for the discriminating artist from eQuilter.com!
Quilt With Us