Quilting
Quilts. Stitched in Color. Handloom Batik - Exotic, beautiful fabric, Indian block prints, Ikot, cottons, hand dyed using vegetable dyes, fashionable shirts, scarves, shawls, rugs, bedspreads, cards, stationary, journals, home furnishings. Dresden Plate Tutorial - Beginner Block Quilting Series. The Flying Needle Fabrics. Atkinson Designs: "Tag Along Tote" Project: Tag Along Tote designed by Terry Atkinson, featuring "Urban Couture" fabrics by Basic Grey.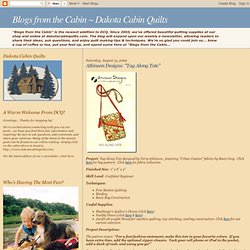 Click here for bag pattern. Click here for fabric collection. Finished Size: 7" x 8" x 2" Skill Level: Confident Beginner. Open - allpeoplequilt.com. America's Quilting History, Quilt Styles and Quilting Myths. Amish Quilts -- A Thing Of Beauty in the Pennsylvania Dutch Country. Amish women of the Pennsylvania Dutch Country have been creating exquisite Amish quilts since the mid-1800′s (and some believe even earlier).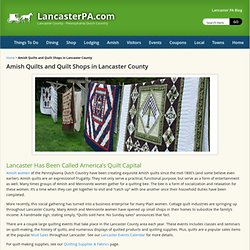 Amish quilts are an expressionof frugality. They not only serve a practical, functional purpose, but serve as a form of entertainment as well. Many times groups of Amish and Mennonite women gather for a quilting bee. The bee is a form of socialization and relaxation for these women. It's a time when they can get together to visit and "catch up" with one another once their household duties have been completed. Quilt History - A short introduction to period quilting. By Lady Sarah Davies c/o Karen Evans 5 Deerfield Drive Easthampton, MA01027 aol.com The word "quilt" summons a host of images: thrifty pioneer housewives piecing elaborate patchworks for their families; album quilts signed by every member of a community as a gift for a departing mayor or pastor, or perhaps raffled for a worthy cause; perhaps even a wholecloth petticoat worn by a colonial dame as she danced with George Washington, or a brightly colored scrap quilt made by a grandmother or aunt during the Depression.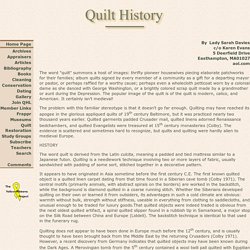 The popular image of the quilt is of the quilt is modern, calico, and American. We get you sewing at PatternSpot.com - Sewing, Quilting, Garment Patterns, Projects, Ideas, Tutorials, Videos. QuiltFabricCloseouts.com. Exclusive Quilting Fabric, Quilting Thread, Quilting Kits, Patterns & Quilt Supplies. BasketcasesUnlimited. The Rabbit's Lair. Quilt in a Day - Quilting Fabric, Quilt Patterns, Quilt Books, Quilt Rulers and Quilting Supplies by Eleanor Burns.
Welcome | The Quilted B. Hancock's of Paducah - The world's foremost supplier of fine fabrics and notions. Quilt fabric, fashion fabrics for the discriminating artist from eQuilter.com! Quilt With Us.
---