Modular
45' CONTAINER HOME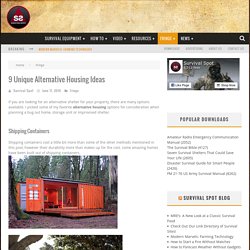 Email Share If you are looking for an alternative shelter for your property, there are many options available. I picked some of my favorite options for consideration when planning a bug out home, storage unit or improvised shelter. Shipping Containers Shipping containers cost a little bit more than some of the other methods mentioned in this post, however their durability more than makes up for the cost. some amazing homes have been built out of shipping containers.
Owner-Built House, Cabin and Barn Kits from Shelter-Kit®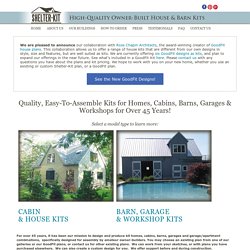 "We aren't just happy with our house, we're thrilled with it because it's ours and we did it. Anthony said even said he's sad it's over and he'd like to do it again" -K.M. West Virginia Our offices are located at 1 East Main Street in Warner, NH.
Redstone Engineered Home Systems provide Panelized House Kits so that everyone can build their own Prefab Homes. Prefabricated Homes from Redstone are complete Home Building Kits delivered as pre-cut wood panels, made from quality lumber, with machine-automated precision that far exceeds what a local framer can duplicate. Our Panelized Homes are also pre-built at the Factory before you receive it.
Redstone Panelized Home Kits, Prefabricated Homes, Panelized Homes, Home Building Kits, Panel Homes, Prefab Homes, Engineered Home Systems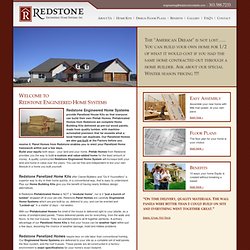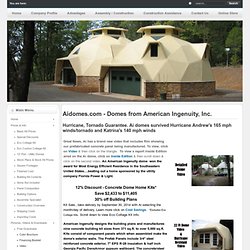 SUPER-STRONG......up to 225 mph Hurricane Winds & Category 4 Tornado Guarantee The dome's geodesic shape combined with the steel reinforced concrete exterior allows for such a guarantee.
Coventry Log Homes - Log Home Kits, Log Cabins Prices and Floor Plans
Steel Home Kits » America's #1 Choice in DIY Steel Homes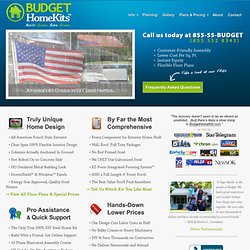 • All-American Ranch Style Exterior • Clear Span 100% Flexible Interior Design • Columns Actually Anchored In Ground
Founder 601 Our most popular housing option, The "Founders" collection. A ranch home starting at 990 square feet and expanding to 2468 square feet available with or without a front addition.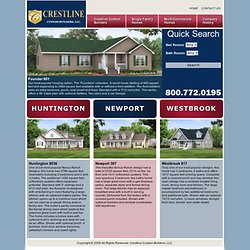 Off-site engineered homes by Crestline Custom Builers—VA, NC, SC
Modular Homes by Genesis Homes
CHAMPION BUILDS PARK MODEL HOMES THROUGHOUT THE US AND CANADA Looking for a weekend retreat or seasonal cottage? You'll love the superior construction and quality craftsmanship found in our Athens Park Model RVs. Available in traditional and rustic finishes, these cabins are available throughout the United States and Canada. View photos and read more about Park Models... DiVE IN provides many tools that you can interact with to create the perfect home to fit you lifestyle.
Manufactured Homes - Modular Homes - Mobile Homes by Champion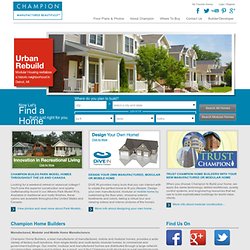 Fleetwood Homes
What's New Cavco Industries Builds for NBC's "American Dream Builders" On Sunday at 8/7c, April 13, 2014, NBC's American Dream Builders will be featuring homes built by Palm Harbor Homes and Cavco Homes, Inc. as part of a fabulous design competition. American Dream Builders is a one-hour reality design competition seri Read full story » Oilfield Housing Solutions Fleetwood Homes began in 1950 as a manufacturer of travel trailers.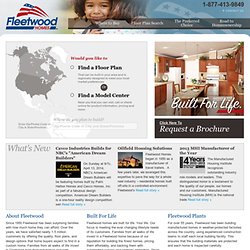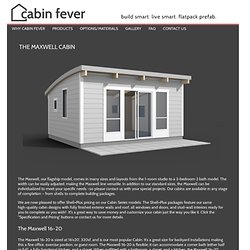 Maxwell
The Maxwell, our flagship model, comes in many sizes and layouts from the 1-room studio to a 2-bedroom 2 bath model. The width can be easily adjusted, making the Maxwell line versatile. In addition to our standard sizes, the Maxwell can be individualized to meet your specific needs –so please contact us with your special projects.
THE ZIPs original design started as the ultimate owner-assembled permit-exempt* prefab. With Dimensions of 10'x12' and 6' porch, this bolt-together building kit with integrated foundation can be built in a weekend. While this version is still available, our customers kept on pressing us for more; a unit with a bathroom, a kitchen, and more outdoor living space. Our intent with this expanded line of Zips is to give you what you have been asking for. While these larger designs are no longer permit exempt (except for you mavericks out there) we have kept the same design principles in mind. Compact, Simple and Smart.
Zip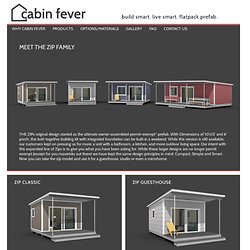 modular home plans and modular home builders | DRA Living Modular Homes
DRA Living looks forward to helping you make your dream home or commercial project a reality ! With more than 30 years industry experience, we look forward to helping you find, design, finance, and move into your new Systems Built project. We will help you design your custom Systems Built project and find the perfect location to place it on (or we can place it on land you already own). In addition, we will manage construction, installation, permits, inspections and loan closing . Our homes and commercial projects are built better, faster and stronger than traditional on-site construction homes or commercial projects.
Clayton Homes introduces the i-house, the new Revolutionary thought in home building.
Luv Homes - Knoxville | Manufactured Homes, Modular Homes, Mobile Home
HOM - Escape in Style
Resolution: 4 Architecture | RES4 Prefab | The Modern Modular | The Dwell Home
BrightBuilt Barn: a Super Green, Prefab, LEED Platinum Net-Zero Building
CleverHomes presented by tobylongdesign - intro
Home Page
It continues to look like winter in Des Moines, but we are focused on sunshine with exciting news for our clients ready for club and amenity design. Dan Nicholas, a recognized leader in Clubhouse and Amenity design for over 20 years, has joined BSB Design to head up our newly formed Club Design Studio. Dan's unique blend of creative design with a strong background in programming and operations bolster's BSB's already strong reputation and abilities as a leading designer of golf course clubhouses and related amenities for both the private and public sector.