Modular
45' CONTAINER HOME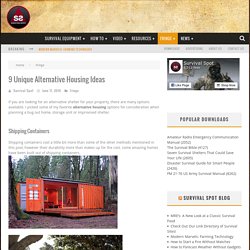 Email Share If you are looking for an alternative shelter for your property, there are many options available. I picked some of my favorite options for consideration when planning a bug out home, storage unit or improvised shelter. Shipping Containers Shipping containers cost a little bit more than some of the other methods mentioned in this post, however their durability more than makes up for the cost. some amazing homes have been built out of shipping containers.
Owner-Built House, Cabin and Barn Kits from Shelter-Kit®
Redstone Panelized Home Kits, Prefabricated Homes, Panelized Homes, Home Building Kits, Panel Homes, Prefab Homes, Engineered Home Systems
Coventry Log Homes - Log Home Kits, Log Cabins Prices and Floor Plans
Steel Home Kits » America's #1 Choice in DIY Steel Homes
Off-site engineered homes by Crestline Custom Builers—VA, NC, SC
Modular Homes by Genesis Homes
Manufactured Homes - Modular Homes - Mobile Homes by Champion
Fleetwood Homes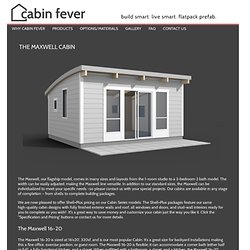 Maxwell
The MaxwelL CABIN The Maxwell, our flagship model, comes in many sizes and layouts from the 1-room studio to a 2-bedroom 2 bath model. The width can be easily adjusted, making the Maxwell line versatile.
is a cabana, an office, a guestroom, a studio, a bedroom, a workshop... What's your Zip? The Zip is the ultimate owner-assembled prefab, It's a permit-exempt*, bolt-together building kit with integrated foundation. Introducing the new Same High quality Zip components 12' x 13' cabin, 8'+ ceiling height 12' x 6' roofed front porch Full bathroom with shower, sink and commode Closet Alcove Generous interior (shown with queen size bed) 2 square side windows (shown with optional round windows) Limited Time Introductory Price of $17'200 Contact us For more detailed information Note: The rendering above includes several optional upgrades.
Zip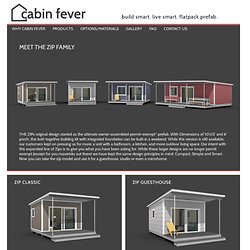 modular home plans and modular home builders | DRA Living Modular Homes
DRA Living looks forward to helping you make your dream home or commercial project a reality ! With more than 30 years industry experience, we look forward to helping you find, design, finance, and move into your new Systems Built project. We will help you design your custom Systems Built project and find the perfect location to place it on (or we can place it on land you already own). In addition, we will manage construction, installation, permits, inspections and loan closing . Our homes and commercial projects are built better, faster and stronger than traditional on-site construction homes or commercial projects.
Clayton Homes introduces the i-house, the new Revolutionary thought in home building.
Luv Homes - Knoxville | Manufactured Homes, Modular Homes, Mobile Home
HOM - Escape in Style
Resolution: 4 Architecture | RES4 Prefab | The Modern Modular | The Dwell Home
BrightBuilt Barn: a Super Green, Prefab, LEED Platinum Net-Zero Building
CleverHomes presented by tobylongdesign - intro
Home Page