Beauty
18 Homemade Sugar, Sea Salt & Oatmeal Scrub Recipes. Scrubs are a luxurious way to pamper skin since they exfoliate and moisturize at the same time and will leave skin feeling smooth and soft.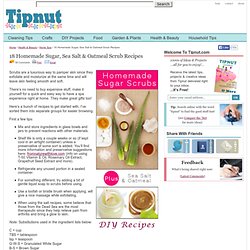 There's no need to buy expensive stuff, make it yourself for a quick and easy way to have a spa experience right at home. They make great gifts too! Here's a bunch of recipes to get started with, I've sorted them into separate groups for easier browsing. First a few tips: Mix and store ingredients in glass bowls and jars to prevent reactions with other materials.Shelf life is only a couple weeks or so (if kept cool in an airtight container) unless a preservative of some sort is added. Banana Peels Against Acne. Do you remember when last spring I pronounced baking soda my greatest discovery of 2011?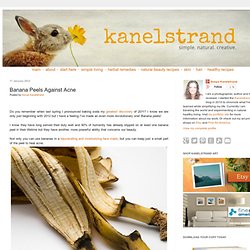 I know we are only just beginning with 2012 but I have a feeling I've made an even more revolutionary one! Banana peels! I know they have long served their duty well and 90% of humanity has already slipped on at least one banana peel in their lifetime but they have another, more powerful ability that concerns our beauty. 25 Beauty Tips Reusing Household Items – Homemade Beauty Tips on ELLE. 1.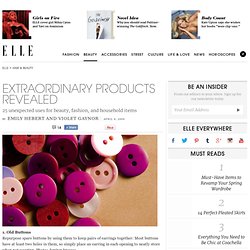 Old Buttons Repurpose spare buttons by using them to keep pairs of earrings together: Most buttons have at least two holes in them, so simply place an earring in each opening to neatly store when not wearing. Photo: Jupiter Images 2. Eyebrow Brush Stuck without a lint-remover? Use this handy makeup tool to remove unwanted fuzz from your shirt.
Blogs - Top 10 Wacky Beauty Tips That Actually Work. In: Video Games, top 10April 2, 2014Top 10 Video Game Mythshosted by Dan ParadisSometimes the rumors become more interesting than the games themselves.
Join and today we're counting down our picks for the top 10 myths in Video Games. Special thanks to our users tom dray, David tucker Jr and Tristan Brown fo PLAY VIDEO in: Film, comic book originsApril 1, 2014Superhero Origins: Cyborghosted by Dan ParadisHalf man, half machine, but all hero. Lemon Or Lime) Sugar Or Salt) Scrub Recipe - Food.com - 197417. DIY Citrus Salt Scrub. It's that time of year.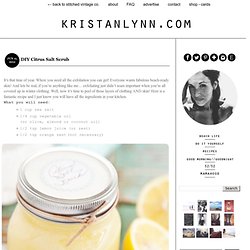 Where you need all the exfoliation you can get! Everyone wants fabulous beach-ready skin! And lets be real, if you're anything like me… exfoliating just didn't seam important when you're all covered up in winter clothing. Well, now it's time to peel of those layers of clothing AND skin! Handmade Salt Pouches For The Shower Or Bath. I love salt scrubs, especially this time of year when I want to slough off the dead skin from winter, and I equally love bath salts for the skin softening ingredients in them – but more often than not I find myself in the shower.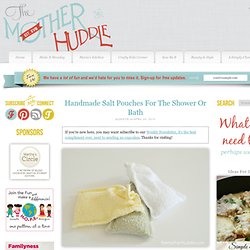 These pouches are perfect for combining both bath salt and salt scrub into an exfoliating pouch I can bring into the shower, and they are simple to make. You can go a few different routes when making these so play around with your recipes and find your favorite. I made these for my mom for Mother's Day so I added a few things for specific reasons. I will list them to give you an idea of how you can customize these to suit your needs. DIY / At home spa facial. Home Remedies To Get Rid Of Facial Hair On Women. Although there are several methods to remove female mustache hair, waxing is the preferred method.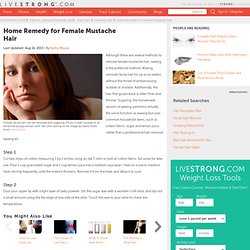 Waxing removes facial hair for up to six weeks without the threat of embarrassing stubble or shadow. Additionally, the hair that grows back is often finer and thinner. Sugaring, the homemade version of waxing, performs virtually the same function as waxing but uses common household items, such as cotton fabric, sugar and lemon juice, rather than a professional hair-removal waxing kit. Cut two strips of cotton measuring 1 by 2 inches using an old T-shirt or bolt of cotton fabric. Set aside for later use. Kool-aid lip gloss. Disclaimer – please try this craft at your own risk.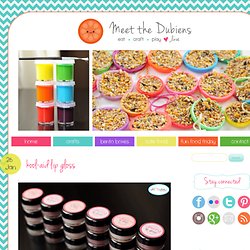 I had absolutely no trouble making this, but so many of my readers who have tried it have not had success. I don't like anyone wasting their time or money on crafts and I understand how frustrating that can be. Please know if you try this out, it may or may not work for you. I really can't figure out why it has worked for some and not for others. Beauty DIY: Yummy Body Scrubs | ElleandBlair.com. Thanks to ElleandBlair.com member AUDREY LYNN for asking this great question, which inspired this post: "Hey girls!
I'm just wondering what are some good body exfoliators? " Get your legs ready to shine for summer (and those 4th of July parties) with these easy DIY (Do It Yourself) body scrubs that you can make with a few simple ingredients straight from your kitchen. So pick one, mix it up, and scrub your legs to gorgeousness! Super Sweet Sugar Scrub 1 cup brown sugar 1/2 cup mashed avocado (optional) 1 cup of olive oil "Wake you up!
"
---