Beauty
Scrubs are a luxurious way to pamper skin since they exfoliate and moisturize at the same time and will leave skin feeling smooth and soft. There's no need to buy expensive stuff, make it yourself for a quick and easy way to have a spa experience right at home.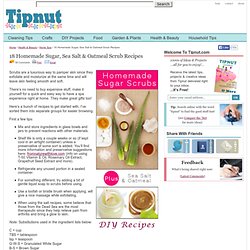 Banana Peels Against Acne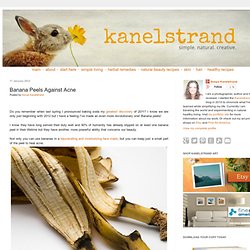 Do you remember when last spring I pronounced baking soda my greatest discovery of 2011?
1. Old Buttons Repurpose spare buttons by using them to keep pairs of earrings together: Most buttons have at least two holes in them, so simply place an earring in each opening to neatly store when not wearing.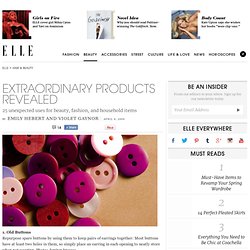 Lemon Or Lime) Sugar Or Salt) Scrub Recipe - Food.com - 197417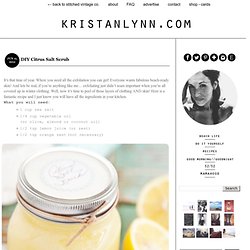 It's that time of year.
I love salt scrubs, especially this time of year when I want to slough off the dead skin from winter, and I equally love bath salts for the skin softening ingredients in them – but more often than not I find myself in the shower. These pouches are perfect for combining both bath salt and salt scrub into an exfoliating pouch I can bring into the shower, and they are simple to make. You can go a few different routes when making these so play around with your recipes and find your favorite. I made these for my mom for Mother's Day so I added a few things for specific reasons. I will list them to give you an idea of how you can customize these to suit your needs.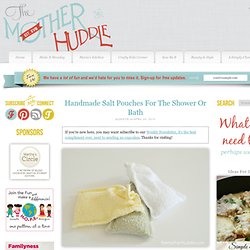 DIY / At home spa facial.
Home Remedies To Get Rid Of Facial Hair On Women
Even though electrolysis serves as the most common clinical form of hair removal, you can also eliminate unwanted facial hair at home by plucking, shaving and waxing. Bleaching also helps to hide or reduce the appearance of facial hair. For some, though, these treatments can irritate the hair follicles and result in skin rashes and tenderness.
kool-aid lip gloss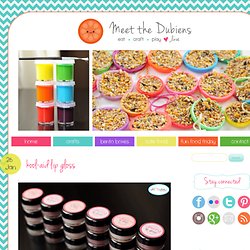 Disclaimer – please try this craft at your own risk.
Beauty DIY: Yummy Body Scrubs | ElleandBlair.com
Thanks to ElleandBlair.com member AUDREY LYNN for asking this great question, which inspired this post: "Hey girls!