KId Stuff
Bonnie Jones. Bonnie Jones. Picasa Web Albums - Emma Marty. Picasa Web Albums - christen gr. Signe Pay - 200 diiseños. Bananas In Pyjamas.
The Crafty Crow. Picturebook | directory of children's illustration. Original Kids Activity Pages, Free Coloring Sheets and Free Kids Printables. Free Stuff for Kids - Best Free Stuff Online.com. FREE Gifts 4 Kids.com One form, lots free baby product samples for you to choose from like parent magazines, formula, diapers, and more!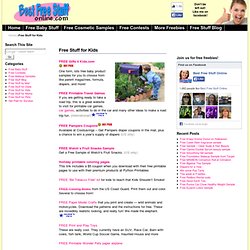 FREE Printable Travel Games If you are getting ready to take a road trip, this is a great website to visit for printable car games, car games, activities to do in the car and many other ideas to make a road trip fun. (international!) FREE Pampers Coupons. Loring Pages, Kids Crafts and Printable Activities For Kids. Animal Coloring Pages, Teacher Worksheets, Birthday Party Ideas, Games & Downloads | Animal Jr. Kids Printables | Find Coloring Pages, Puzzles, Games, Crafts and More. Online Coloring pages, Kids games, printables, crafts- Kidopo. Free coloring pages | Coloring pages to print | Printable colouring sheets from The Coloring Spot.
FamilyFun Crafts, Activities, Recipes & Other Ideas for Kids & Parents and More Family Fun. Recortables infantiles. Manualidades para niños.
---