Quiet Books
Quiet Books
{Quiet Book I}
I have a new obsession! Quiet books! Quiet books are fabric books full of fun surprises and activities to keep toddlers and young children *quietly* entertained.
Imagine Our Life :: Loving It - Quiet Books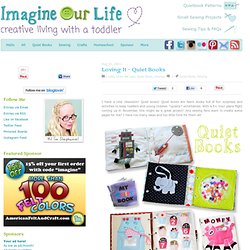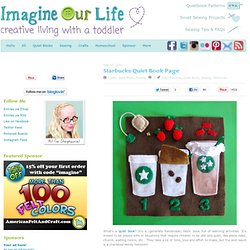 What's a quiet book? It's a (generally handmade) fabric book full of learning activities. It's meant to be played with in situations that require children to be still and quiet, like plane rides, church, waiting rooms, etc… They take a lot of time, love and effort to make, but the end result is a cherished family heirloom! Page 5 in Jax's quiet book is in honor of our love for Starbucks. Being a work-from-home mom, I only talk to my coworkers by phone and IM. If I have no errands to run, I can go days without seeing an adult besides my husband.
Imagine Our Life :: Starbucks Quiet Book Page
Imagine Our Life :: Forest Quiet Book Page
Here's the next quiet book page for Jax's book! I knew I wanted to do a tree and owl page, but it wasn't going to be the next one I made. When Amazon happened to suggest this Skip Hop Treetop Friends Soft Activity Book , I was inspired!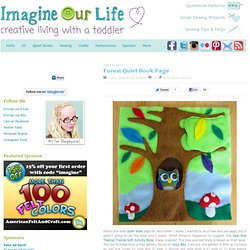 Welcome to Antarctica! This is the next quiet book page for Jax's book! As you can see, I've finally started sewing some actual book pages. It is a bit labor-intensive, so I only have 2 double-sided pages done so far. I decided to be thrifty and use plain white fleece with some batting inside and 2 grommets per page.
Imagine Our Life :: Penguin & Igloo Quiet Book Page